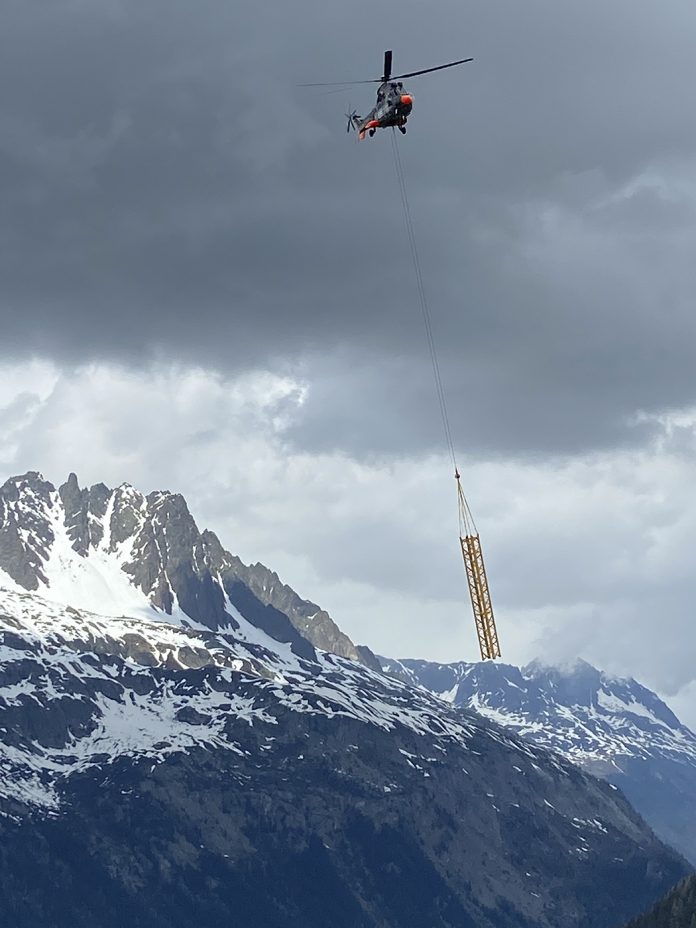 Within the space of four months, Potain dealer for the Rhône-Alpes region Valente Grue Assistance (VGA) has carried out two unusual tower crane assembly jobs on the Mer de Glace "Sea of Ice" on the northern slopes of the Mont Blanc massif.
First, in May 2022, VGA assembled a Potain MDT 109 top-slewing tower crane at an altitude of 2,000 m for the construction of a logistics base. In September 2022, VGA then assembled a second Potain MDT 109 at an altitude of 1,600 m to help build a cable car station.
The MDT 109 was chosen for its load curve, which met the needs of both sites in the same configuration — a 34 m height under hook, 35 m jib and 2.85 t lifting capacity — on fixing angles. Overall, the MDT 109 has a maximum load of 6 t and 1.35 t at 55 m.
Due to the remote location, the cranes had to be assembled by helicopter, so Potain carried out a thorough study to fully understand the challenges and determine the right process. In addition to the weather conditions, the team had to factor in the weight of the elements, which could not exceed 3.6 t. Potain technicians supported the VGA and customer teams throughout the unloading of the elements in the drop zone and assembly.
The MDT 109 is highly regarded for its compact design and low parts weights, which make it easy to transport and assemble. The Crane Control System (CCS) also enables fast commissioning. The crane can be calibrated, and the safety devices adjusted in just 15 minutes via the CCS display in the cab.
Despite unexpected snowfall during assembly on the second site, both cranes were completed in under four days.
VGA, based in Belley near Lyon, has been a leader in the sale and rental of tower cranes in France since it was founded in 1979. The company has been a dealer for the Potain brand since 1996 and offers new, used or rental cranes to customers in Rhône-Alpes. The family business employs 40 people and has a fleet of more than 400 tower cranes.
Please visit the Manitowoc website for more information on the Potain MDT 109 top-slewing tower crane.