TBF Construction Machinery have come back to Dublin after an eight-year absence. We were at the opening of their new depot in Parkwest.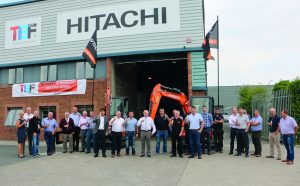 If we needed more evidence that a recovery has well and truly come to this industry, perhaps seeing a ribbon being cut in front of a new machinery dealership was just that. The official opening of TBF Construction Machinery's new depot in Parkwest, Dublin 12 was held in early July. Attendees included company directors, top brass from Hitachi UK, and various representatives from across the sector. Several Hitachi excavators were arrayed inside the large industrial unit for those in attendance to poke and prod at. Most importantly, the catering was top-notch. A man has to eat, after all.
"Hitachi approached us toward the end of last year about taking over the dealership for the east coast of southern Ireland. One of the stipulations was that we had to open a depot in Dublin", explains director Seamus Doherty.
As many will remember, TBF previously had a depot in Rathcoole, until the construction industry took a nosedive and they were forced to close their doors. "We were in Dublin until 2010, then we pulled out due to the credit crunch. We're back now, and we're very proud to be back", says Seamus.
The story so far
This is a company with a long and colourful history. Managing director Raymond Crilly gives us an account of the Dublin part of the story. "They bought out Strangford Plant in the '70s and changed it to a company called TBF Thompson Ireland. We bought it in 1999 and changed the name to TBF Thompson Plant Ltd. We traded until February 2010. So, if you count from the '70s, you're looking at maybe 40 years in business overall. But in the North, the construction side of the business has been going since 1958."
"We celebrate our 60-year anniversary in the plant industry this year", Seamus chimes in.
"We were originally in Old Kilmainham, but the premises were too small, so we bought a site in Rathcoole, off the Naas dual carriageway and built new premises from scratch there", says Raymond.
More than diggers
"The business has been through many franchises, but Hitachi is the big one", says Raymond. Although TBF is probably best known as a distributor of Hitachi equipment, they also carry numerous other brands at their Northern depots.
Likewise, the plan is to begin with Hitachi in Dublin, and expand their portfolio over time. "We have a couple of other dealerships in the process of coming about. Doosan Portable Power approached us and we're now the dealer for all of Ireland for it. That will be working out of Dublin", says Seamus.
"We are looking at another couple of things. Like the Northern side of the business, we will have four or five different franchises to help grow the company", he continues.
The opening of the Parkwest base marks the spread of TBF's Hitachi dealership across the whole island. "From the 16th of July, we will be the Hitachi dealer for all of southern Ireland. Of course, we already have Northern Ireland and Donegal, so it's a very proud day for us", says Seamus.
In the right place 
"We will be renting these premises for potentially 10 years, but if the business takes off we may well look for alternative accommodation. We're just testing the water at this stage to see how it goes", explains Raymond.
He praises the convenient location of the new premises. "You're so close to the M50 here, people can get to you from anywhere in Ireland. We're only about a mile from the Red Cow Roundabout, and everyone knows the Red Cow Roundabout, you just have to tell them. Plus, with sat navs people can find you very easily nowadays."
"We have two reps employed down here, who are out on the road visiting customers. With a lot of customers, you do the sale on-site – in quarries, construction sites and so on. Seamus himself will also be up and down, because he was already dealing with a number of big customers down here", he adds.
"We also have the benefit of a finance solution provided by Hitachi Capital for our customers across Northern and southern Ireland which means they can get the equipment quickly and not have to worry about organising finance elsewhere. Being able to offer a Hitachi branded finance solution has been instrumental in our growth over the past couple of years as customers don't always want to make large payments up front and our Hitachi capital rep is always on hand to help."
A big future
TBF have their sights set on further expansion "If the west coast comes on stream in the future, we may look at opening a small depot there. Potentially Cork too, if the demand is there. It's early days, but hopefully there's a big future for us anyway", reveals Raymond.
"There will seven or eight people employed here permanently. We have a good staff level at the Garvagh and Mallusk depots, so we can call on resources from there as well. We intend to keep it lean and mean, to be more competitive in the market", says Seamus.
Business is off to a good start, Seamus says. "We opened on the 2nd of July, and the first machine was physically sold from here on the morning of the 3rd. We've been selling in the south since we got the dealership back on the 1st of December. Of course, a lot of it has been coming from Garvagh, but business will be good."
Seamus expresses his optimism for the industry; "The construction industry at the moment is very buoyant. Long may it continue!"