Tesab have recently launched their NEW 1000TC Cone Crusher which was officially unveiled at Hillhead 2018! Adding to their existing Cone range, the 1000TC is ideal working in direct feed applications, designed to produce High Tonnages and High Quality Cubical Aggregates.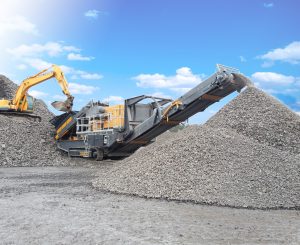 With a 1000mm wide cone crusher unit, the superior Tesab design consists of thicker manganese for longer life and a specifically curved profile allowing for unscreened feed – producing a superior shaped product and high tonnages well in excess of 230 TPH!
Boasting a large 4.5m3 Hardox Lined Hopper as standard with a Low Feed In Height of 2.64m, Hydraulic Raise/Lower Conveyor for easy access with a 3.3m discharge height for increased stockpile capacity and the choice of concave chamber options (coarse, medium coarse or fine) – the 1000TC is a highly versatile machine!
The 1000TC is the first in an ongoing number of new product releases for the Tesab Cone range with the 1150 Cone is also currently in production and further plans for an even bigger 1300 Cone to complete the range before the end of 2018!
For more information on Tesab products visit www.tesab.com or contact us directly via                  +44(0)2882 252781.