Plant rental outfit Loxam held an open day of appreciation for their customers at the Ballymount depot in south Dublin showing off the latest equipment they have acquired for hire in recent months.
In typical Irish style the weather was, as we say "a soft day".
But that didn't dampen the high spirits surrounding the day.
"Today is the first "Loxam" day in Ireland since they came here in 2017" says MD Joe Gavin. "Due to the pandemic as we all know everything kinda stopped, I'm here 2 years now so really, it's the first full year that were actually back to normal business.
So, we wanted to put on a show for people and get them in to see who we are and what machines we have. From 13 tonne rollers down to the small consoles inside essentially meaning we can cover everything from the start to the end of a site"
I asked Joe about business this year for the company.
"This year so far has been very positive; the first 5 months of 2022 was really aggressive and good and there was a great level of excitement as we were finally fully out of Covid." Joe did inform me that things did slow down during the summer months (when the war in Ukraine started).
"Because of that there was a lot of uncertainty over getting machines in etc. But then again, we've seen a good uplift again since the August holidays and it's continued since." So, I suggest to Joe that this is a good indication looking forward for the industry in general…
"There's still a lot of uncertainty and even with the budget yesterday and the concrete tax it could slow down some of the one builds but I think with the bigger sites for another 12-18 months things are going to stay positive.' "We as a company here are very confident at the way things are going, were ready to expand, were putting another few million of equipment here in Dublin next year. We are also looking to expand to Cork, Limerick and Galway.
Loxam is constantly investing in new equipment, they have a huge fleet at the moment, dumpers, diggers, rollers.
"Weve got into contracts with good brands like Kubota, Wacker Neuson and Pramac. Weve got a good relationship with people now, Loxam is the biggest rental company in Europe, the fourth biggest in the world so we know we've got the help of a lot of these companies throughout Europe so we want to be the biggest in Ireland, and we will" exclaims Joe boldly.
After the pandemic of 2020, which disrupted the operation of the company, 2021 emerged as the year of reconstruction. Of course, in Europe, many countries were still affected by the restrictions, especially in the North, but those in the South, which had experienced a rather brutal halt in the spring of 2020, returned to a level of activity comparable to that of 2019.
In this very particular climate, Loxam demonstrated its resilience and adaptability in order to continue to move forward, particularly with regard to its digital transformation. The acceleration that they led in 2020 in this area continued throughout 2021.
Their customers became used to interacting with the teams via various web portals, they organized home officing, video-conferencing meetings became widespread and distance learning increased. There has been both a technical and cultural adoption of new digital tools and processes.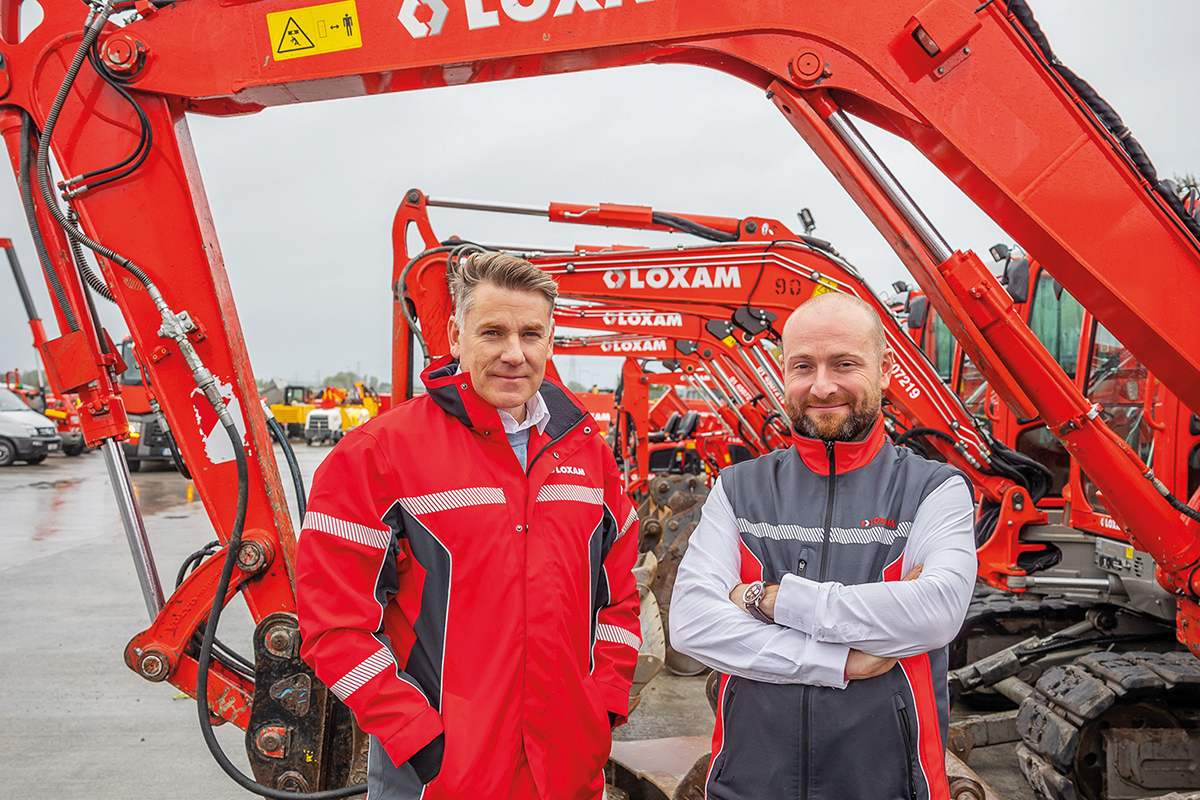 Loxam have also been pushing the eco side of the business with their Lox Green range of low emission and electric products.
In the depot in Ballymount they have what they refer to as the "Green Shed" which houses the latest electric machines and reach equipment.
"We have to take our carbon footprint seriously at the moment. With the way fuel is going we have to cut back, we a looking at keeping lights off in a place, keeping the heating at a more optimum setting.
We are pushing our electric products, we've electric diggers and dumpers in from Wacker. Weve got Pramac hybrid lighting systems and were also talking to Hilti about bringing in the full range of cordless battery powered tools which (because of no cables) helps towards the health and safety aspect.
Were even in talks with Daf to upgrade our fleet of trucks to a more environmentally friendly and possibly HVO and electric powered (for some of the smaller vehicles)." There is however a lot to do as Ireland is falling behind in this area as we simply don't have the proper infrastructure in place to actually charge these units."
The LOXAM Group has experienced steady expansion throughout its 50-year history through regional development, acquisitions in Europe and around the world. It's strength lies in how its 1050 branches spread over 30 countries are operated by committed, professional and responsible men and women.
Throughout this impressive international growth, they have successfully preserved the internal organization to ensure that each network can always be managed like a small business.
In recent years by completing the acquisitions of Hune, Lavendon and Nacanco, Loxam group reinforced its status as an international rental company established not only in Europe but also in South America, Africa and the Middle East.
In July 2019, the Group reaches a major milestone in its history with the acquisition of Ramirent, Europe's second largest equipment hire company.
It thus strengthened its position as the undisputed pan-European leader and becomes the 4th largest market player in the world, with operations in 30 countries around the world and pro forma sales of €2.3 billion.