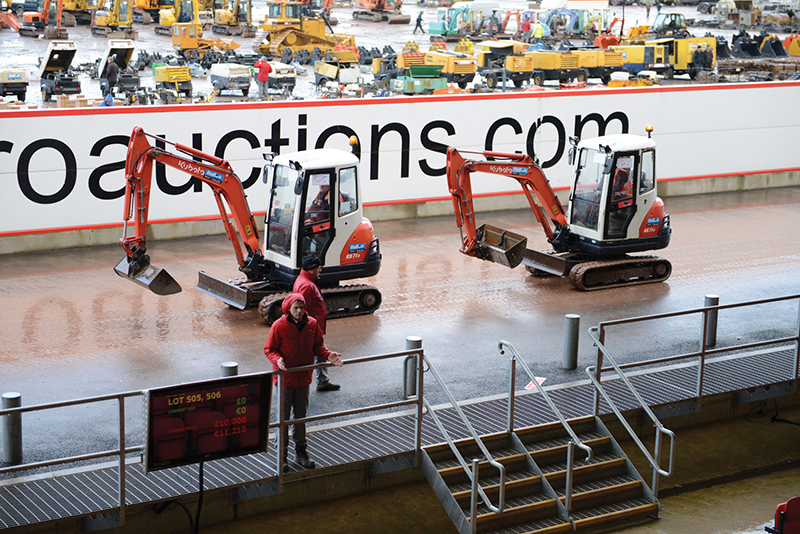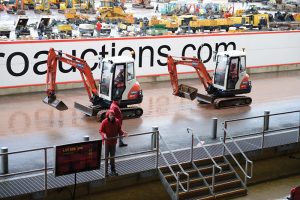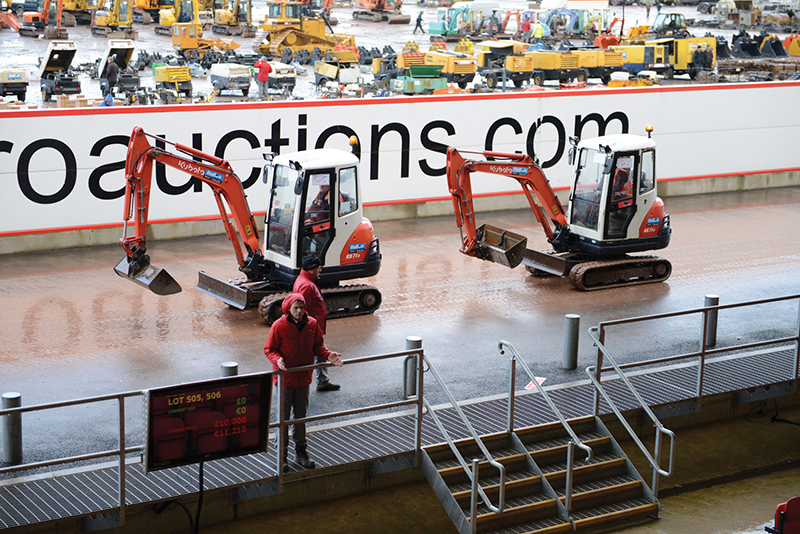 Euro Auctions, Europe's largest auctioneers of construction machinery and industrial equipment, attracted the crowds to its dedicated ex-rental unreserved 'one day' sale for quality equipment from leading hire companies, including A-Plant and Charles Wilson.
 Euro Auctions was delighted to be appointed, again, to hold a special 'one day' unreserved sale for ex-rental equipment, including two of the UK's largest plant, tool and equipment hire companies, A-Plant and Charles Wilson. The sale comprised of over 1,200 lots, and took place on 17thJuly at Europe's largest auction site for construction equipment and machinery, at the Euro Auctions site at Kellington, near Leeds, UK.
The sale presented a  wide range of good well maintained equipment, including, excavators, breakers, mixers, dumpers, compressors, access equipment, power generators, loaders, mini diggers, rollers, compressors, plus many other popular items of equipment. For anyone looking for well maintained 'multiples' of top quality tools and equipment this was an ideal opportunity to view a truly extensive range of stock in one place, at one time, during one sale.
"These sales are normally part of an overall re-investment programme and fleet renewal by rental companies" explains David Betts, of Euro Auctions, "We have a very strong relationship with A-Plant, hosting sales like this on an annual basis. And we welcomed Charles Wilson to this sale, who brought their biggest consignment to date to an auction."
Over 700 bidders registered for the sale, with in excess of 76% bidding online, such is the Global reach that Euro Auctions has, with the top buying nations being: United Kingdom, Poland, Ireland, Belgium, Italy and Spain.
Euro Auctions Leeds – the biggest in EUROPE!
The week before the ex-rental sale, the schedule Leeds auction again showed that the upgraded site at Kellington, just outside Leeds, is capable of putting more machinery and equipment over the ramp, in three days than any other auction site in Europe.
From the 3rdto 5thJuly, over the three days, 4,658 lots were auctioned, with the sale having a hammer value of £34,063,025 and each lot having an average sale price of £7313.
As with all Euro Auction sales, over 50% of all bids were transacted on-line, and buyers from over 150 countries around the globe participated in the sale, with over £17 million worth of lots going to internet buyers.
New Development
"With the development of the new sales arena's, the new office building and the workshops and wash bays, the Euro Auctions site at Leeds will be the biggest facility of its type in Europe. And as such, we are seeing capacity being reached at each sale with around 5,000 lots for sale,  at each sale" comments Jonnie Keys, Operations Manager of Euro Auctions, "We can display and sell more machinery and equipment that any other auction site in Europe, as well as finding buyers for specialist pieces through our global marketing."
Upcoming Euro Auctions sales:
With a busy auction schedule this summer, the next sale scheduled for Leeds will be on 28th, 29thand 30thAugust.Other Euro Auction sales include:
Leeds, UK                                              28th, 29th& 30thAugust.
Brisbane , Australia                             22ndAugust
Dormagen, Germany                          4th& 5THSeptember
Dromore, Northern Ireland           13th& 14thSeptember
Dubai, Middle East                              16thSeptember
Zaragoza, Spain                                      18thSeptember
Brisbane, Australia                              3rdOctober
YODER & FREY, Ashland, USA       26thSeptember
All auctions offer potential buyers a great opportunity to acquire some impressive lots with full details for consignors and bidder catalogues for these events available on theEuro Auctions website at www.euroauctions.comemail info@euroauctions.comor on +44 (0) 2882 898262.