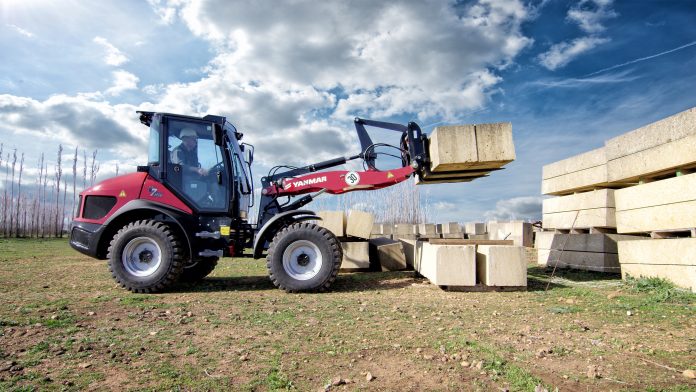 Yanmar CE's smallest ever wheel loaders
Yanmar Compact Equipment (Yanmar CE) has just expanded its wheeled loader portfolio with the launch of a brand-new pair of mini yet mighty machines: add drumroll and welcome the V7/V7-HW (weighing 4,250kg and 4,450 kg, respectively). The smallest in Yanmar CE's product range, this dynamic duo is designed to keep ahead of the fast-paced, tough demands of construction, landscaping and rental application.
With a total height less than 2.5m, width of 1,850mm (with bucket) and overall length of just 5,238 mm, the units can easily fit inside a standard container – keeping both under the 4m height limit dictated by the EU's Weights and dimensions' Directive of 1996.
They may be the smallest in Yanmar CE's range but with smooth, powerful, electronically controlled drives, front oscillation and P-kinematics parallel lifting, the wheel loaders have the capability to take on the big jobs with ease. For more information, please visit: https://www.yanmar.com/gb/construction/products/wheel_loader/v7/
Contact O'Regan Plant Sales on 021-4889800 or 087-2847594 or visit www.yanmarireland.ie