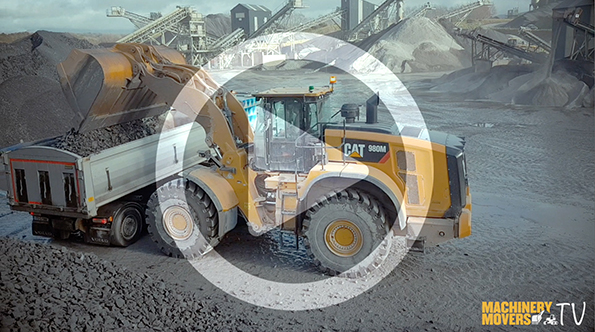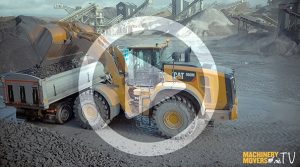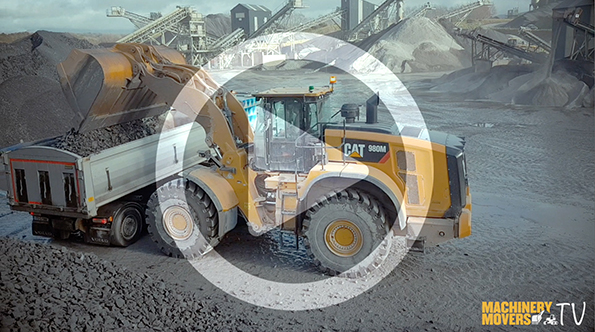 A new year and a new machine. Harrington Concrete and Quarries have just purchased a brand-new Caterpillar 980M wheel loader. It is currently hard at work in their Ballisodare quarry. To check out the latest addition to their litter, Darren Scully paid them a visit.
They say that Brexit could be catastrophic on many levels. Doom and gloom lurks around every corner and we will all be soon living in hedges and out hunting in packs. Or, we could maybe return to reality for a moment and see that new machines are been shipped all over the country on low-loaders. One such new machine sale is that of a Cat 980M wheel shovel, sold by Finning to Harrington's. This investment in a quality machine is an example that many equipment operators have confidence in the economy and that there are houses to be built and roads constructed. When I heard about this purchase, and that the shovel was working in a quarry near Sligo town, I just had to go and see for myself. I am always looking for an excuse to visit the West of Ireland. As they say, you must go west for the best.
"When it pushed hard into the crushed stone mountain, not a whisper of smoke could be seen from the exhaust stack."
A steep history
Not only do I find new machines extremely interesting, but I also like to know more about their owners. Harrington Concrete and Quarries is one of the largest independent manufacturers of concrete and quarry stone products in the country. It is a family-owned business, originally known as Frank Harrington Ltd, which was founded in 1971 in Kilkelly, Co. Mayo. Today the company has operations in Castlebar, Claregalway and Ballisodare. It currently employs over 150 people and has been involved with many large projects over the years, including the building of bypass projects and Knock Airport, to name a few. They work closely with local authorities and road contractors, providing them with a top-quality product. Harringtons also supply limestone aggregates and produce tarmacadam and asphalt products. They also manufacture blocks, precast beams and traffic management bollards. They also supply the agriculture industry and housing sector. I asked Brian Harrington why he chose this Cat shovel as his latest purchase. "Well, it replaced another Cat machine and I am very happy with the product and the service that Finning provide my company. The trade-in value is good, and the machine does the job asked of it", he said. Brian informed me that they also look at Komatsu and Volvo when considering a new purchase, and they will be looking to add to the fleet in the very near future.
Cat on the prowl
With all the safety gear on and induction completed, it was time to see their new Cat 980M in action. As I made my way down the ramp towards the pit, at times I felt like a big game hunter waiting to catch a glimpse of the big cat. It didn't take long before I caught sight of her, working away at a stockpile, keeping it topped up before the next tipper truck arrived. It had an effortless look about it as it moved gracefully around the quarry floor. When it pushed hard into the crushed stone mountain, quickly filling its bucket, not a whisper of smoke could be seen from the exhaust stack. This shows how far manufacturers have come with diesel fuel technology. I can remember about twenty-five years ago working on some loading shovels that put out more smoke than the Vatican did when electing a new pope. It was the norm back then – maybe you needed to blow out the air filter, but if the engine wasn't pumping out a cloud of black smoke, then the feeling was she wasn't working very hard. Thankfully diesel engines today are as clean as any petrol engine and the technology keeps on improving. I clicked away on the camera as the loader skilfully loaded the trucks with their new stone cargo. Backwards and forwards, no problem – this was easy. I could tell the man in the hot-seat was an experienced veteran, he knew how to get the best out of his new chariot. Michael Gallagher has twenty years of service working with Harrington's. He started his first day in a Komatsu 500 loading shovel and then progressed onto various Caterpillar models. Before he got the new 980M, which was delivered in mid-January, he was operating a 980H which had accumulated over 20,000 hours of hassle-free service. I ask Michael to explain the main differences between his new machine compared to the previous one. "The main difference would be the steering, this one is joy-stick-controlled" he says. "It makes such a positive difference for precise control and less fatigue. I am sitting up straight the whole time and just use the flick of my wrist to steer the machine. I also love the improved vision from the cab – I get a clear, unobstructed view all around me and the on-board camera is great", he said. The loader is currently putting in a ten-hour shift daily and typically removes material from the crusher onto the stockpile and also loads trucks and trailers. As he has many years of operating loading shovels under the belt, I ask Michael for his opinion of Caterpillar loaders. "Previously, I had a 966G and then a 980G, and I found them to be very good. The most obvious thing for me is the reliability, they give hardly any trouble and if I had to buy one out of my own pocket it would have to be a Cat, great machine", he concluded.
Harrington's Cat uncovered
It was time for the lunch break, so as Michael tucked into a ham sandwich, I tucked into this Cat. The 980M Wheel Loader is equipped with built-in proven technologies to help meet your expectations for productivity and fuel efficiency. Engine power increased by approximately 5% improves machine performance and response (compared to H Series). A lock-up clutch torque converter, combined with lock-to-lock shifting, delivers smooth shifts, fast acceleration and speed on grade. It is up to 10% more fuel efficient than the K Series and up to 25% more fuel efficient than H Series loaders. The cab is exceptionally comfortable, and the joystick control is well, you know, a joy to operate. There is great all-round vision, with extra glass frontage, and the camera is very clear. The seat was good and took all the bumps and shocks in its stride. I was hoping to remove the seat and stick it my car, but then again, I was sure someone would notice. I really liked the little switch beside the access ladder that electrically flicked open the cab door. It's the small things that count. A one-piece tilting bonnet with side and rear doors; hydraulic and electrical service centres make access fast and easy. Safe, ground level access to fuel fill and daily maintenance points means less servicing time is required. Optional Cat Production Measurement 2.0 brings simple and accurate on-the-go payload scale, allowing operators to deliver exact loads and work more efficiently. Advanced productivity subscription provides comprehensive actionable information to help you manage and improve the productivity and profitability of your operations. As you would expect from the American machinery giant, this machine is well built and laid out. One thing I noticed was the v-shaped guard at the back of the bucket, this prevented overspill and dust from getting into the Z-link bushes and bearings – a clever addition. Another excellent wheel loader from Caterpillar.
Cat 980M – Tech-specs
Engine:                Cat C13 Acert
Power:                  425 hp
Breakout force:   224 Kn
Transmission:     4 forward/reverse
Top speed:                   39.5 kph
Operating weight:     30,090 Kg