Operating a tilt rotator can be tricky but as Chris McCullough discovered during a visit to Lowry Building & Civil Engineering's sites in the Northwest, age is no barrier to getting the hang of this labour-saving tool.
As more construction companies discover the real benefits of using a tilt rotator, some of their operators learn to handle them quickly, some not so quick. But for the team at Castlederg-based Lowry Building & Civil Engineering Ltd, there seems to be no age barrier when it comes to a competent tilt rotator operator.
The company, now run by Ian Lowry, was founded back in 1961 by his late father Jack and currently operates across Northern Ireland on a number of sites including Ebrington Square in Derry/Londonderry. From new fire stations to multi-million pound community centres the 50 strong workforce at Lowrys has the experience and the drive to undertake any challenge. Backing the staff up is a fresh fleet of 25 excavators, consisting of Kubota machines under seven tonnes, Hitachi excavators over seven tonnes and a new 150 hp, 22 tonne Liebherr R922, thought to be the first one in Northern Ireland.
Restricted space
Working on sites of restricted space, Ian realised the benefits of using tilt rotators a number of years ago and has since added four Rototilt models to the fleet, the latest one being a Rototilt R6 supplied by Aiden O'Neill, owner of Cullion Plant Service based in Ardboe in County Tyrone.
"The Rototilt tilt rotators are really starting to take off," comments Aiden. "We have already sold half our annual target in the month of January this year alone. When we started selling Rototilt it was mostly owner operators that were investing in them, but now companies are realising the benefits too. "We cover all of Ireland and the R6 that Ian has is the biggest model we have supplied to date," adds Aiden. "There is a bigger R8 model designed for 22 to 30 tonne machines and the R9 for 30 to 40 tonnes machines. The R9 is the biggest tilt rotator currently available on the market."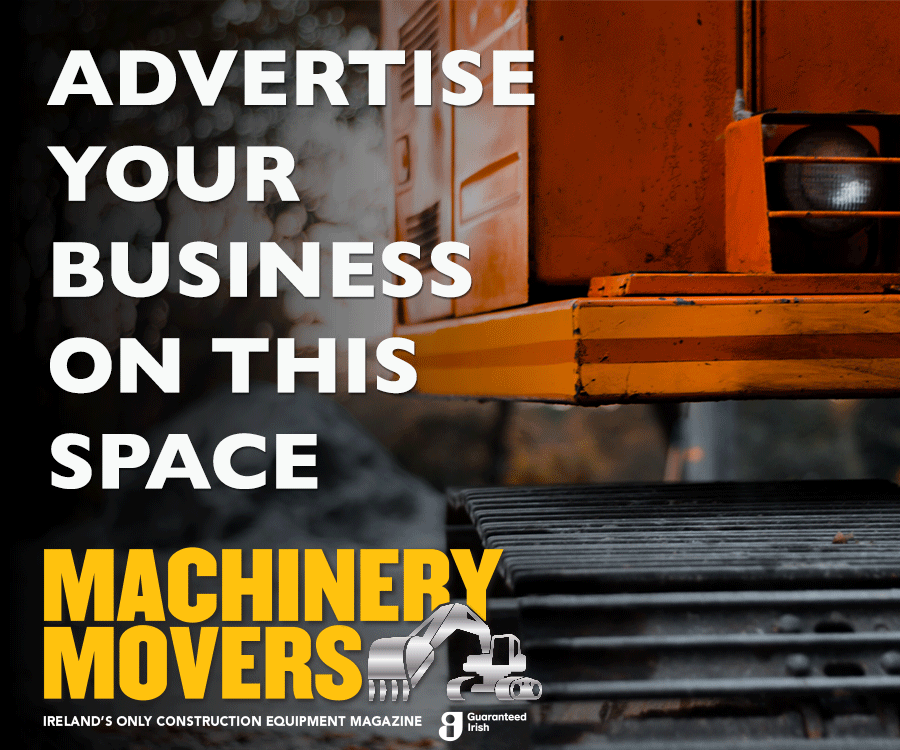 Tilty benefits
Even though investing in tilt rotators is quite expensive the benefits are worth it, according to Ian, in terms of saving on both labour and fuel as well as increasing site health and safety. "We have been using the Rototilt tilt rotators for over three years now and are well impressed with the machines," says Ian. "They do represent a significant investment in equipment but the benefits justify the expenditure in my opinion. We are currently working on a number of sites throughout Northern Ireland and have two Rototilt tilt rotators in use at the Ebrington Square site in Derry/Londonderry. In fact, age really is no barrier to using these tools as we have a twenty year old operator on one and a 70 year old operator on another at a different site."
The Ebrington Square development is located just beside the Peace Bridge on the Waterside area of Derry/Londonderry and is part of the wider Ebrington area that extends to 26 acres. This particular development is transforming the former parade ground into a large public event space owned and managed by the Northern Ireland Executive Office.
Working in Ian's crew there is Jack Hannigan who may only be 20 years old but has already mastered the art of operating a Rototilt RT20B on his 2017 Hitachi ZX65USB excavator. "I've been using this Rototilt for the past four months and really have got the hang of it. It is mostly useful for digging in tight areas where I can really see the benefits of it, and I use it to lift and manoeuvre heavy concrete blocks into the perfect position," says Jack. "I have become so used to it now it would be hard to work without it on the excavator."
Tilties and ducks
Driving the company's 2018 Hitachi ZX140W rubber wheeled, rubber duck excavator is expert tilt rotator operator Emmet Nolan. Emmet first trained to use tilt rotators in Norway and is a real master behind the controls now. "I was working over in Norway with a pipe laying crew and learned quickly how to operate a tilt rotator," says Emmet. "They really are an efficient piece of machinery and a good asset to any excavator. I find it most useful on the bucket and more so with forks attached. Being able to readjust position without moving the entire excavator saves time and is safer." Up the road a short distance at another site being developed by Lowry Building & Civil Engineering, 70 year old operator Fred Gilchrist is digging out the foundations for a new £2.5 million community centre. Fred started off his excavator career some 50 years ago on an old McCormick International crawler tractor with no whistles or bells and is the lucky driver to take over the company's new Liebherr R922. Fred has always been a faithful Hitachi operator but when asked to demo the new Liebherr there was no turning back. Plus he has got a new Rototilt R6 on the boom to handle too.
"I spent a few days on the Liebherr and knew in that short space of time that it is the Rolls Royce of excavators," says Fred, who normally drives a Hitachi ZX210LC. "The Liebherr is much quieter and has better visibility all around for the operator. It also has more power and I like the controls layout better. I have already been using the Rototilt R6 for a couple of days to get the hang of it. Once you become mentally aware of what the extra buttons are for then using a tilt rotator is quite simple." Ian Lowry adds: "As well as the smaller Rototilt RT20B and the larger R6 we have two other R4 models. They are proving very efficient and do save us labour costs overall. With operators like Jack, Emmet and Fred being able to convert to using a tilt rotator quite quickly it just goes to show age is no barrier to learn, whether young or older."