In a year of multiple significant milestones for Cat® mining and infrastructure trucks, Caterpillar announces delivery of its 50,000th articulated truck from its Peterlee, U.K. manufacturing facility. Since the start of Cat branded articulated truck manufacturing in 1985, Caterpillar has become an industry leader of the articulated truck design.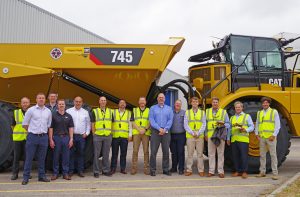 "The articulated truck has been a key member of Caterpillar's core product line since it was developed in Peterlee, which has always been its proud home. I thank the entire team for their focus and dedication to continually improve the design, manufacture and support of these great trucks for our customers," says Brent Losey, product manager for articulated trucks. "Cat articulated trucks are helping our customers meet their objectives on construction and mine sites around the world. We are proud to see the 50,000th truck drive off the assembly line and look forward to the next 50,000!"
Trader Construction Company
Trader Construction Company of New Bern, North Carolina, USA, received the 50,000th unit during a ceremony held at the Peterlee facility recently. Carl Huddle, president of Trader, and Gregory Poole Cat dealer representatives were on hand to receive keys to Trader's newest Cat  745, 45.2-ton (41-tonne) articulated truck. "Trader and Cat dealer Gregory Poole have enjoyed a longstanding relationship dating back to the 1960s, and Trader has owned or leased a total of 500 40-ton (36-tonne) class articulated trucks over the years," says Anthony Pollock, articulated trucks marketing manager for Caterpillar.
Since 1957, Trader has worked in close partnership with municipal, commercial and private customers on mining, road and highway, bridge, aviation, site development and other infrastructure projects large and small throughout North and South Carolina. The Trader team has grown to over 400 office and field workers. The company operates and maintains more than 200 pieces of heavy equipment, including 50 articulated trucks, to efficiently complete its infrastructure projects.
Featuring the recently re-engineered world-class cab, the Cat 745 offers improved ease of operation, uninterrupted rear-quarter visibility and in-cab operating sounds levels 7 dB lower than previous designs. Its gear range selector delivers efficient single-lever control over truck speed and body hoisting functions to improve cycle times. Featuring economy mode operation for an average 5 percent fuel consumption improvement, the truck's power train is driven by the Cat C18 ACERT™ engine, rated at 504 net hp (375 kW), with a range of emissions control platforms to meet global environmental standards. The Cat 745 articulated truck features a host of standard integrated technologies, including Product LinkTM, Cat Production Management and Cat Detect with Stability Assist, to monitor, manage and enhance job site operations.
With a heritage dating back to the DJB Design & Engineering Ltd. company, today's Cat family of articulated trucks features six, three-axle models with rated payloads ranging from 26.5 to 45.2 tons (24 to 41 tonnes) and heaped capacities from 19.6 to 32.7 yd3 (15 to 25 m3). Caterpillar first premiered a 40-ton (36-tonne) payload class articulated truck with the D400 in 1985. Since that time, Caterpillar has been a leading manufacturer of 40-plus-ton (36-plus-tonne) class articulated trucks.
For more information about Cat articulated trucks, contact the local Cat dealer or visit: www.cat.com.