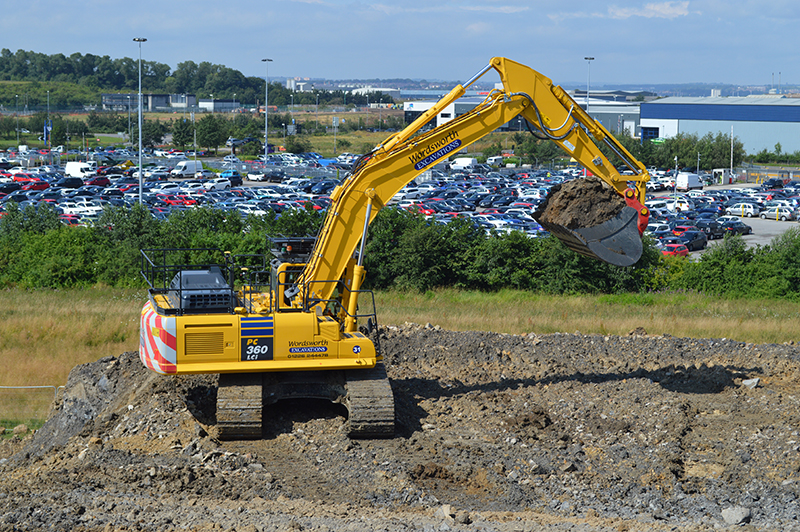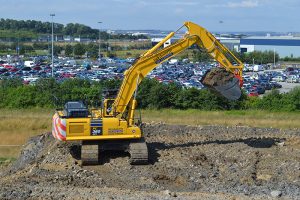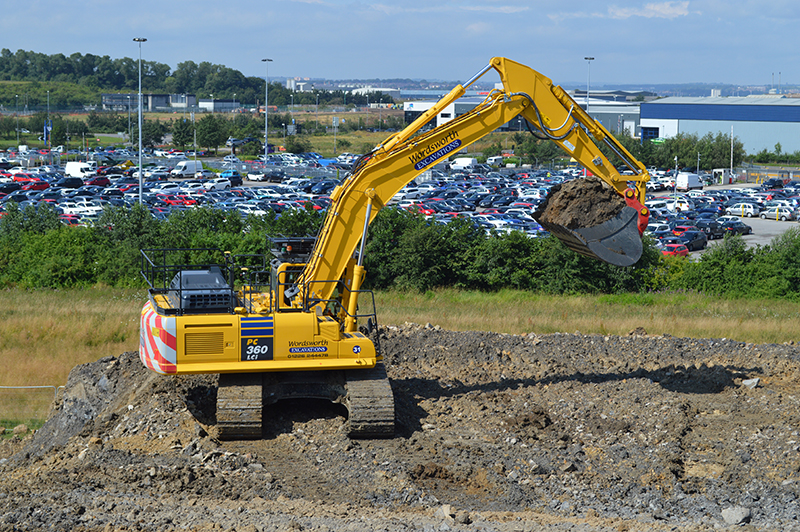 At Bauma earlier this year the world saw the launch of Komatsu's new PC360LCi-11 intelligent excavator which is the first excavator in the 36-tonne weight class, factory integrated with a 3D semi-automatic system. The first of these excavators was purchased by Wordsworth Excavations, a nationwide bulk earthworks contractor based in Barnsley. Known as experts in the field, Wordsworth Excavations continue their passion for excellence by expanding their fleet with the latest technology on the market.
The new Komatsu PC360 which has been working in Leeds on the construction of a large distribution centre; the first project in Europe using one of these new excavators, combines the high productivity of a bulk earthmoving excavator with the renowned accuracy of Komatsu Intelligent Machine Control. This is achieved by powerful hydraulics and breakout forces when excavating, fast cycle times when truck loading, and by completing grading automatically in just one pass. The PC360 productivity has been maximised further due to the machine's technology being paired with an innovative Miller Scoop bucket which has been engineered to deliver maximum payload resulting in fewer machine cycles, lower fuel costs and increased machine utilisation.
Miller's patented Scoop buckets are designed to mirror the natural geometry of the excavator and are shaped to match the natural arc of the digger arm to reduce strain on the excavator itself. This increases digging force and decreases power requirements, resulting in better fuel economy. The profile of the bucket enables operators to cut through the ground more effectively with minimal resistance, while its self-fill action delivers a maximum payload, designed to optimise the machines' performance and lower the operating costs.
"We have been impressed with the combination of Miller's bucket and coupler, these attachments are the perfect partnership for our new Komatsu PC360LCi-11 excavator" said Mark Briggs, Director of Wordsworth Excavations. "It just goes to show that it's really important to invest and specify the right attachments, as the increased productivity from using Miller's products on our new machine has allowed us to achieve the tight schedules on the sites that we work on" he added.
James Ross, Miller's Business Development Director commented, "It's really important to select the right attachments for the job and by doing so the operator will be able to cut through most applications more easily and improve machine cycle times. This enhanced performance can offer significant earning opportunities as well as a project time saving by moving up to 25% more material per machine per day."
For more information please call 0800 912 0006, visit www.millergroundbreaking.com, or follow Miller on Twitteror LinkedIn.