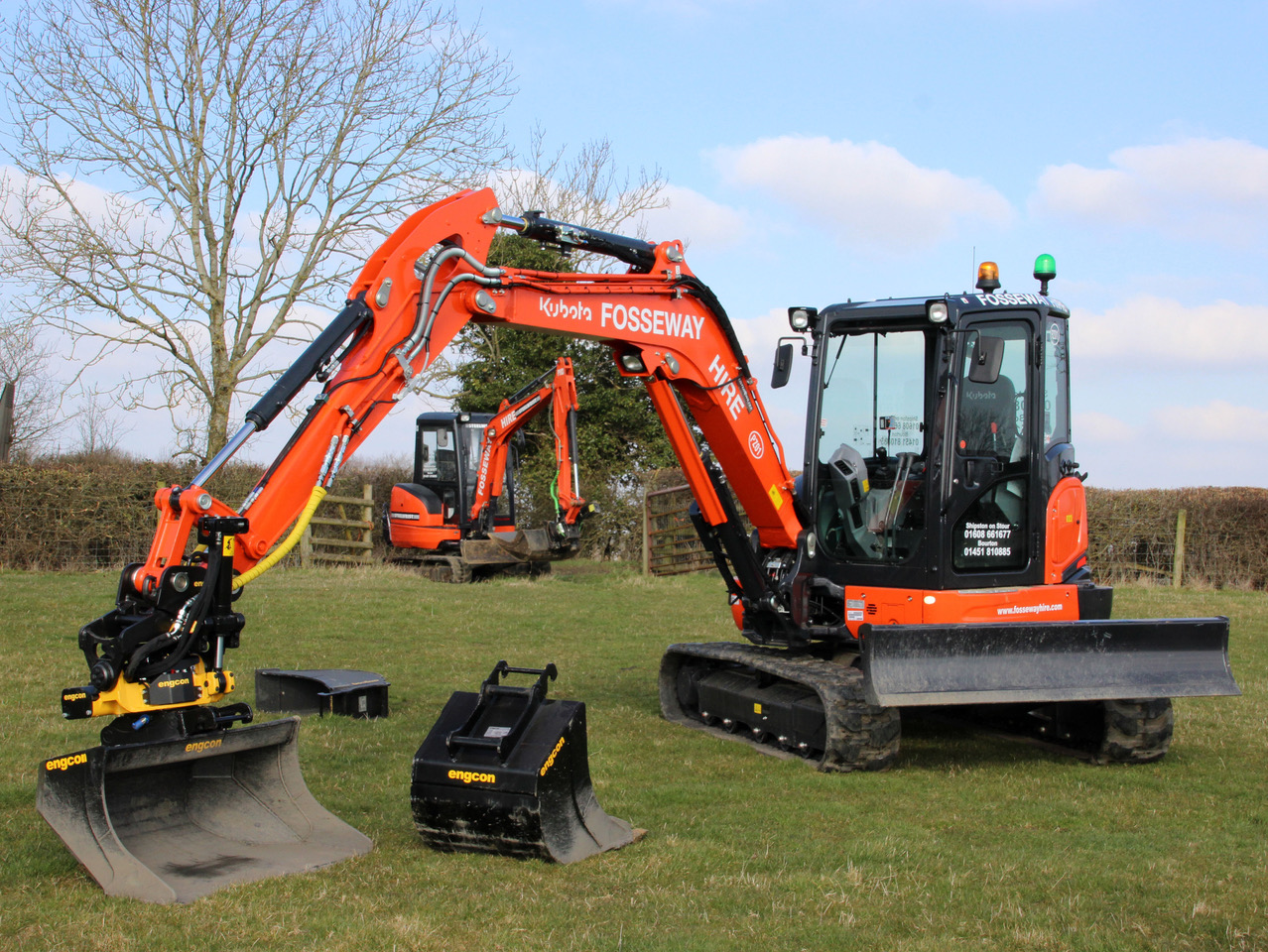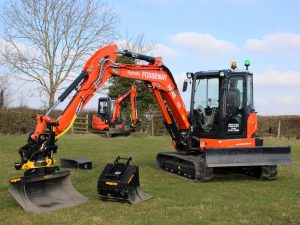 Fosseway Hire, the Cotswolds-based plant hire company, has upgraded its stock of tiltrotators to Engcon models.
A tiltrotator greatly reduces the need to reposition an excavator, thus speeding up the job. Complex shapes can be created from fewer digging positions and the need for machine movement is often eliminated.  The concept, which is relatively new to the UK but standard across Scandinavia, usually results in huge leaps in operator productivity and in turn bookings.
Fosseway Hire, which hires out the latest and tools and plant machinery, has invested in Engcon's tiltrotators in addition to its fleet of standard excavators.
Trevor Palmer, Director at Fosseway Hire, says: "Tiltrotators used to be a hard sell until recently, but they're a huge benefit to diggers.  It means you can dig in at least four directions, vastly decreasing the need for machine movement on site. We tell people, you can dig on your boundary without disturbing your neighbour for example!
"We've provided tiltrotators as an optional extra with our excavators for a few years now.  We've just upgraded to Engcon because they're ahead in the UK in terms of infrastructure, service and, most importantly, products. Engcon tiltrotators feel finished, while some others on the market feel a little like a work still in progress.
"Nowadays people are asking for tilt and rotate options, they're in high demand. If you're thinking about buying one and haven't made up your mind, I welcome you to hire one from us and try it out."
Robert Hunt, UK Managing Director added 'The growth in demand for tiltrotators within the operated plant market is feeding through to the unaccompanied plant hire sector. In this market, running twin-hitch setups with our new range of simple control systems means the hire company is not tying up a digger with a permanent tiltrotator anymore. The digger can still go out on conventional hire, but it's a five-minute job in the workshop to fit the tilty, connect the hoses and control cable and it's ready to go out at a significant premium. This sector is all about making the numbers work and, as a value-added attachment, this works very well. Also, because Engcon is the largest tiltrotator manufacturer in the world, demand for our second-hand products is the highest with residual values incredibly strong.'
Engcon is, by a significant margin, the largest tiltrotator manufacturer in the world and, in the UK, operates a complete customer resource centre offering sales, service, fitting, repair and training. To book your test drive, call 01684 297168 or email uk@engcon.com.