Dara Boyle visits Hilltop Quarries on site and takes a look at the most recent additions to their fleet.
Hilltop Quarries Ltd was founded in 2005, and now provides a contract crushing, screening and rock breaking service around the country, having recently carried out work as far from home as Cork. The Carlow-based company has recently added a crusher, a stacker and two excavators to their fleet. We liked the sound of that, so we set off to see the new gear at work on site.
Making short work of shale
I headed to a quarry in Co Laois, where Hilltop Quarries were crushing shale using a new Metso Lokotrack LT106. There were already some Metso machines in the Hilltop fleet, and managing director David Condell was impressed enough with these to choose Metso again when the time came to invest in another crusher. "I have had an LT120 and an LT200 since 2015", he said. "They're working away – they are good machines and they don't give much trouble."
The LT106 is a 40-tonne class jaw crusher designed for primary crushing use. It is powered by a 224 kW CAT C9 engine and uses a Nordberg C106 jaw crusher, which has a 1,060 mm x 700 mm feed opening and can handle a max feed size of 600 mm. A 6m3 feed hopper is fitted as standard, with a larger 9m3 option available. The feeder uses a two-stage grizzly design. Two main conveyor options are also available, with the standard being 11 m long while the extended option folds out to 14 m. An optional side conveyor can also be fitted. Other options include radio control and a magnetic separator. The whole unit is designed to be compact for ease of transportation.
Alan McNally is the operator loading the crusher. "It's a great crusher. Metso make the best crushers out there, they always have", he said.
Up and away
The output from the Metso was going into a Terex Ecotec TSC 80T stockpiler. This is HTQ's first stacker and had only been in use for around three weeks at the time of my visit. David Condell explained how investing in the machine has been of benefit. "I don't need to have a loading shovel in that quarry now, so that's the benefit in this case" he said. "On other jobs, if we have the stacker under the belt of the screener, it will give the loading shovel a bit more freedom to do other work", he explained.
This is the 80-foot model in the Ecotec stacker range and has a 23.5 m x 1,050 mm belt. The angle of the stacker is adjustable between zero and 28 degrees, giving it a maximum discharge height of 10.5 m at the highest angle. The speed of the conveyor is adjustable, and it can handle up to 400 tph when running at full bore. The machine is run by a 36.4 kW Deutz engine. The steel-lined feedboot that receives material from the crusher is designed to be durable, with rubber-lined options also available. 
Fully kitted Komatsus
The next stop was McKeon Stone's quarry in Co Kilkenny. The limestone extracted from here is widely used in building, as well as being a favourite material among sculptors around the world. Here, HTQ's first Komatsu excavators, a pair of PC360LC-11s, were working away. One, fitted with a Geith bucket, was loading a crusher. The material from the crusher was then being passed on to a series of two screens.
The other big Komatsu was working further up the quarry, smashing blasted rock with an EDT 3200 breaker. Operator Mark O'Connell has been running diggers for 20 years and is now working full-time in the Komatsu. "The 360 is a very good machine, it's well able for this work. It's a good all-round digger", he said.
David ordered these machines fully specced, as he explained; "I made them as convenient to operate as possible. They have auto greasers, extra lights, and all the other extras. I also ordered them on narrow pads for working in the rock", he said. "They are a good, smooth machine to operate", he added.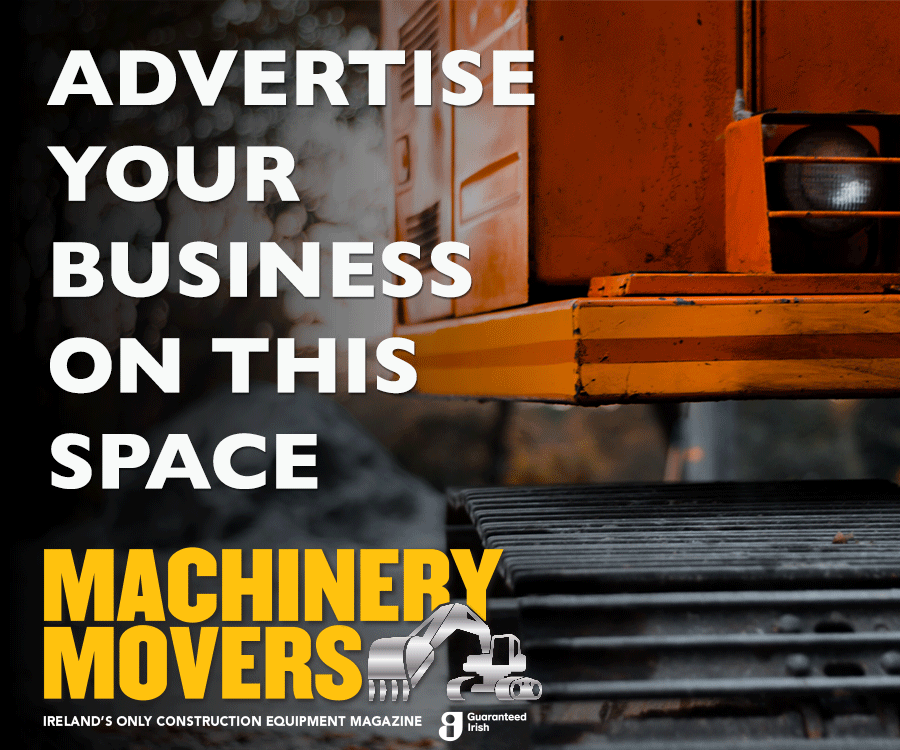 The 360 is powered by a six-cylinder turbocharged engine, which produces 202Kw at 1,950 rpm. It reaches Stage V standards by using a combination of technologies including DPF and SCR. Fuel consumption is down from previous generations thanks to the computer-controlled High Pressure Common Rail injection system. The heart of the hydraulic system is a pair of variable-displacement piston pumps.
Komatsu say their SpaceCab is the safest cab on the market, thanks to its tubular steel frame. Inside, there is a heated, air-suspended seat with adjustable armrests, proportional controls as standard, two 12-volt outlets, and a radio with an aux connection. A widescreen monitor shows the operator everything they need, and also provides a bird's-eye view of the machine generated by the KomVision system. KomVision uses cameras located around the machine to create a composite view of the machine from above.
There are two boom modes – Smooth and Power – to suit tougher or more precise applications. Hitting the PowerMax button will give you more power temporarily. There are also six work modes to choose from: Power, Lifting, Breaker, Economy, Attachment Power and Attachment Economy. The auto-idle shutdown feature turns the engine off if the machine is left running without being used for a period of time. This is adjustable from five minutes to an hour.
The Komtrax telematics system allows you to monitor the machine's location, working time, service needs, faults and other data remotely from a computer or through a phone app.
All of these machines came from McHale Plant Sales, who are based in Rathcoole, Co Dublin and Birdhill, Co Tipperary. David praises the service he has received from the dealership. "I have found McHale's service to be absolutely excellent. They have never let me down", he said.