MAN Truck & Bus won the Fleet Transport Irish Truck Innovation Award 2019.
Held at the Citywest Hotel, Dublin on Thursday 11th October, this annual awards ceremony sees Ireland's transportation and haulage heavyweights go head to head for a number of different awards, including Technician of the Year and Irish Haulier of the Year. The Fleet Transport Truck Innovation Award was given to the MAN aFAS Level 4 autonomous driverless motorway safety truck.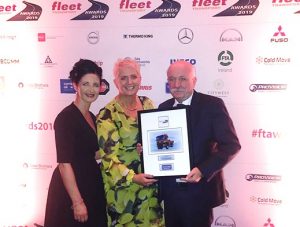 Based on the MAN TGM 18.340, the aFAS follows another truck engaged in maintenance works on motorways. This could save lives in an environment where rear-end collisions with mobile motorway repair crews are common. The aFAS has been tested on public roads covering more than 4,000 km so far without accident and is the first Level 4 driverless vehicle on public roads in Europe.
Accepting the award that evening was Michael Hynes, Managing Director of MAN Importers Ireland, "We are delighted to have been awarded with the Fleet Transport Irish Truck Innovation Award 2019.
These technological developments demonstrate a commitment from MAN to safety, as well as economic and low-emission driving. This is an important stepping-stone in the development of fully automated commercial vehicles on public roads and construction sites too."
MAN is working on the customer solutions of tomorrow, from platooning to automated safety vehicles for construction sites, to self-driving trucks. Read more about our intensive research into the future of driving here: https://www.truck.man.eu/de/en/Automation.html