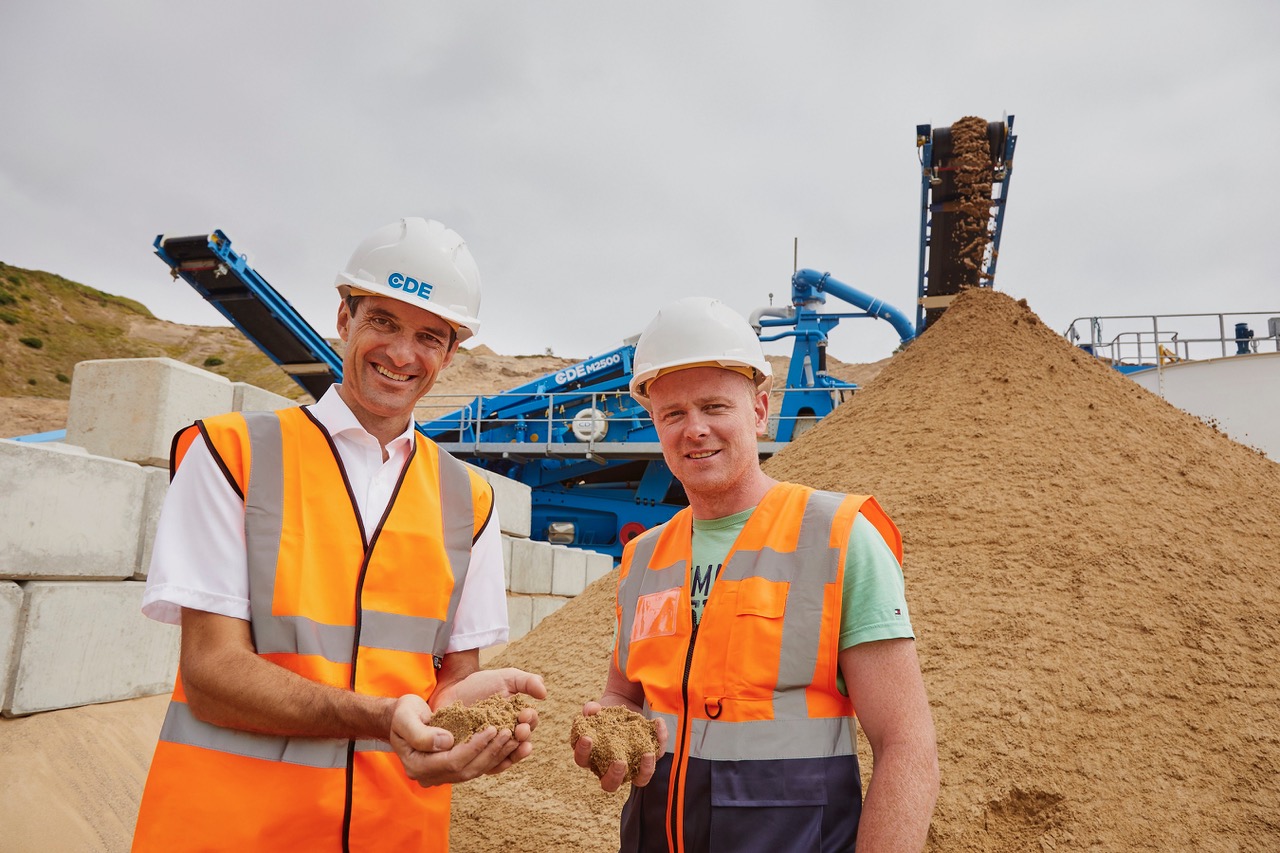 At its Wexford site, near the village of Blackwater, D'Arcy Sands was facing a combination of site-specific challenges, namely water supply and reliance on a traditional bucket wheel classifying system. It recently partnered with industry-leading wet processing equipment manufacturer CDE to commission a new wet processing plant which was showcased at a recent Open Day event in June.
With operations in counties Wexford and Wicklow, the company, owned by father and son business duo Anthony and Tony D'Arcy, has been producing high quality building materials and sports sands for over 25 years.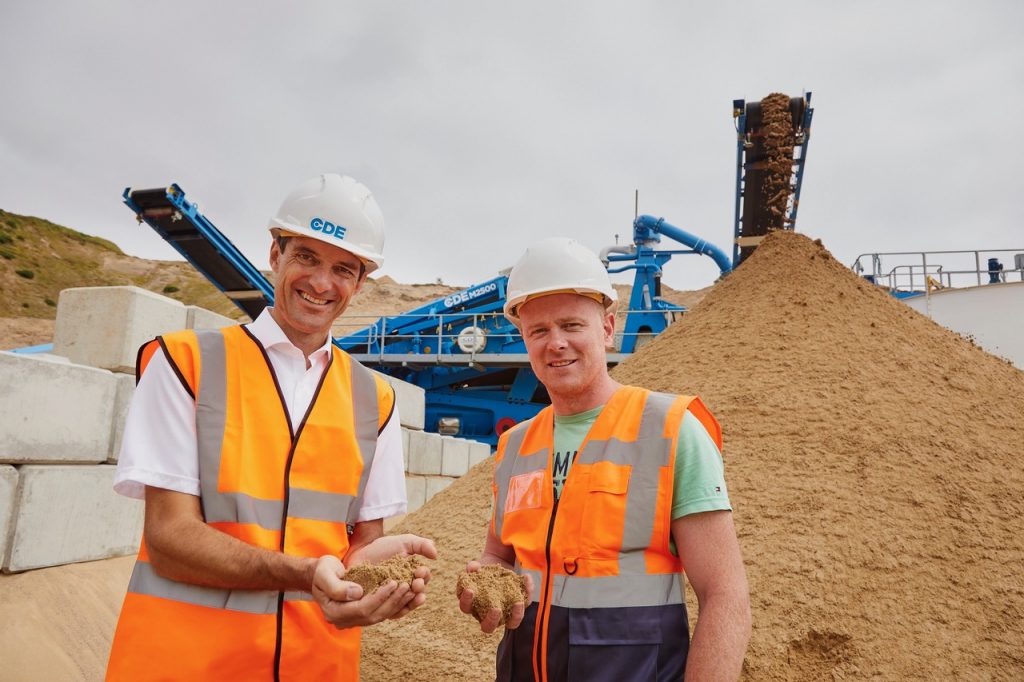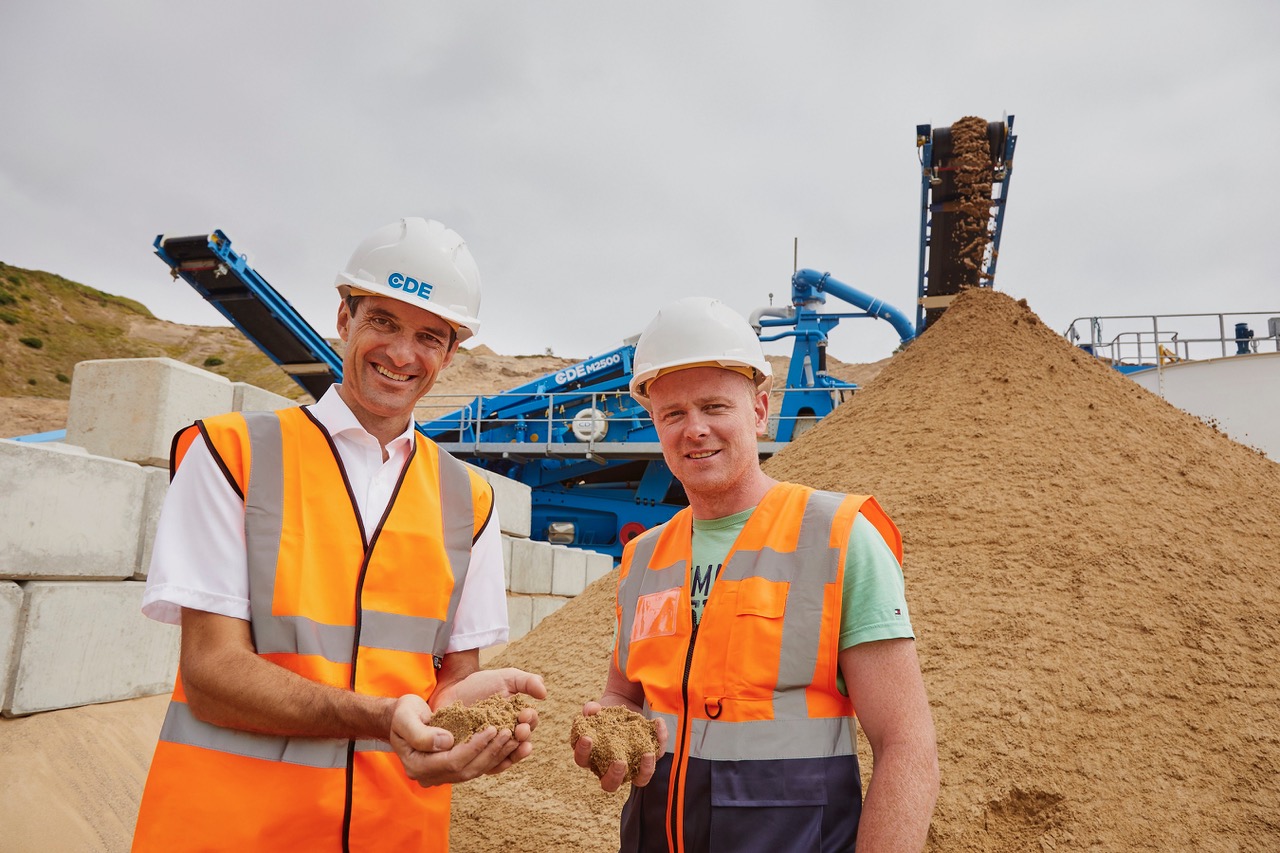 The company specialises in the production of quality graded sands for a range of sports, including outdoor, synthetic and all-weather sports pitches; sands for golf courses, including bunkers and top dressing for greens and fairways; and its silica sands are also used widely in equestrian sports for training surfaces and racetracks.
Over the years, D'Arcy Sands has worked with clients throughout the UK and Ireland, supplying sands for major projects and events including the Dubai Duty Free Irish Open, Croke Park, Thomond Park, Curragh Racecourse, and Adare Manor Hotel Resort.
Recently, the company secured a contract to supply its sands to the Aviva Stadium.
The Challenge
D'Arcy Sands produces high-spec sports sands for some of the most prestigious venues and events in the UK and Ireland. It's therefore important that the quality and prestige of these projects is reflected in the standard of its product.
Until its new CDE plant was commissioned, D'Arcy Sands had been using a tracked rinser and traditional bucket wheel system for sand classification and dewatering.
An upgrade of the existing bucket wheel system was required to tackle the loss of valuable materials to ponds and excess moisture in the final products.
Water availability proved to be another significant challenge at the company's Wexford site. So much so that it was transporting its sports sand more than nine miles to a separate site with sufficient water supply.
As well as water management, Tony D'Arcy, Manager at D'Arcy Sands, said energy efficiency was another important consideration.
"The plant we had been operating was powered by a diesel hydraulic system, so there existed the potential for spillages that could contaminate our much sought-after sports sands. We work with world-class venues and arenas, so we wanted to take preventative measures and put in place a system that would remove the risk of product being rejected or returned."
A perfect partnership
Garry Stewart, Area Business Development Manager at CDE, explained how the new plant was developed using CDE's co-creation approach.
"Our engineers worked closely with Tony and the team at D'Arcy Sands throughout the design and commissioning process to better understand what the company wanted to achieve by upgrading its plant and to outline any key site challenges they were facing.
"Completed over several site visits and through a series of collaborative design workshops, we designed a bespoke plant specific to D'Arcy Sands to support the company to scale its operations and extract maximum value from the material being processed."
Tony said: "We wanted to partner with a company that could help us realise our growth ambitions by designing a solution that supported our objectives in the most sustainable and economic way possible. Plant build quality coupled the technical know-how and the expertise of its engineers proved CDE was the ideal fit to deliver on our aims."
The Solution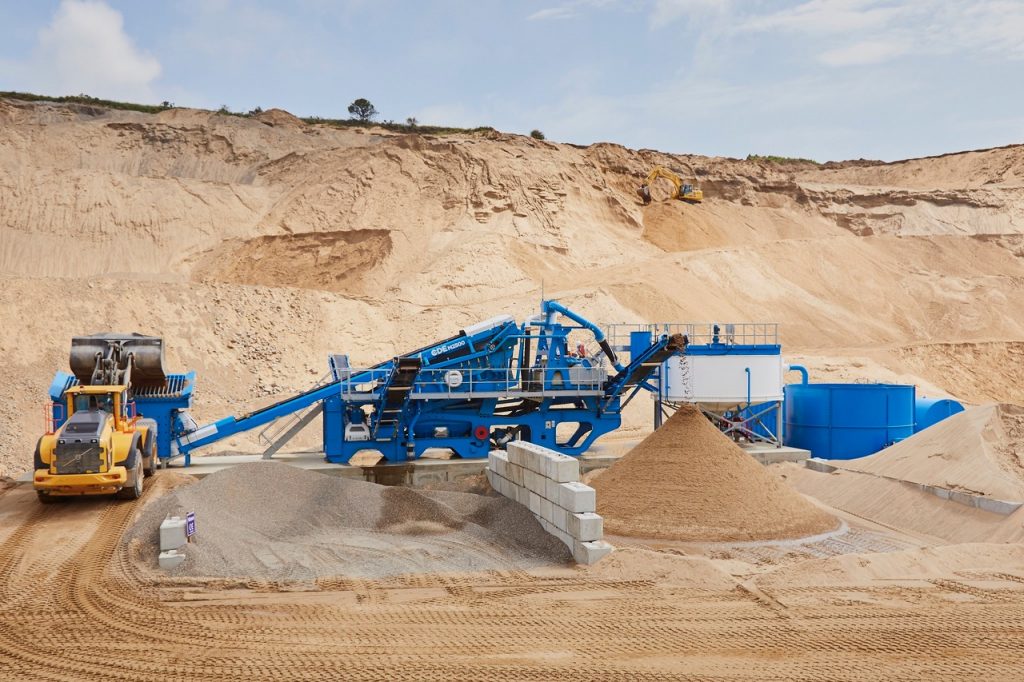 After careful consideration of the site and customer's requirements, CDE presented a custom-built plant featuring the electric-powered M2500 E4 washing plant with integrated hopper, feed conveyor and twin-deck Infinity P2-75 screen. The plant also includes an integrated water management system comprising the A200 AquaCycle thickener, FlocStation poly dosing plant and AquaStore water tank.
CDE's M2500 fully integrated modular washing plant combines feeding, screening, sand washing and stockpiling into one compact and mobile chassis. The E4 model would allow D'Arcy Sands to produce up to four commercial grade washed sand and aggregate products simultaneously.
Importantly for D'Arcy Sands, the M2500 is a maintenance-free and energy efficient all-electric drive operation. Unlike its former diesel hydraulic system, this eliminates the possibility of product becoming contaminated by spillages.
To improve the efficiency of the company's day-to-day operations, the new plant incorporates CDE's cutting-edge water management system, the AquaCycle thickener.
Waste water from the plant is processed by the AquaCycle thickener which recovers up to 90 per cent of the process water to be recirculated back into the washing plant. This ensures moisture content of D'Arcy Sands' product is reduced from over 20% per cent to an average of 10-15 per cent, resulting in a much faster return on investment.
It also means that, for the first time, the company can process material at its draw site.
The entire system requires under 20m3 of water per hour to operate, an 80 per cent reduction from the 200m3 of water required for its former plant.
Garry said: "By introducing the CDE AquaCycle, D'Arcy Sands is now able to wash material at its Blackwater site. It's the custom-built solution designed by CDE that has made this possible for the Tony and his team. This was unachievable with the old plant."
The Results
"We've doubled production, as a result of the new CDE wet processing plant", Tony explained.
Raw feed material, primarily Wexford sports sand with a small portion of gravel, is being fed into the new plant at a rate of up to 80 tonnes per hour.
"Output is up by over 100 per cent," he said. "We're now processing up to 80 tonnes per hour of feed and extracting over 40 tonnes of our quality graded sports sands. Greater control of fines separation using cyclone technology, which is a new development for our operation, has added more value to our products and is driving significant demand.
"The feedback we have been getting from our customers and in particular the greens keepers who use our sand daily has been excellent with numerous positive comments on the quality, percolation and workability of the sand.
"Importantly for us, the new system allows us to wash material at our Blackwater site when previously we had to transport it off-site, almost ten miles, to a location with a better water supply."
AquaCycle technology is supporting D'Arcy Sands to recycle 90 per cent of their process water requiring a small 20m3 per hour top-up supply which is drawn from a bore well on site.
Inefficiencies in its traditional bucket wheel systems resulted in D'Arcy Sands losing high value resources to pond, as Tony explains.
"Our new system is recovering this resource and helping us to maintain high product output for our premium sands."
Growing Demand
More effective screening made possible by the M2500, which screens and washes up to four in-spec sand and aggregate products in one process, is opening up new markets and opportunities for D'Arcy Sands.
Tony continued: "Producing commercial grade sports sands has always been the primary focus for D'Arcy Sands, but the new plant is producing new revenue streams for us through the production of higher quality aggregates and opening up new markets."
Confident in the quality of its commercial grade sports sands and aggregates, and coupled with its growing demand as a result, the company has also purchased adjoining land at its Blackwater site to increase the lifespan of the operation.
Garry Stewart added: "D'Arcy Sands is a company ready for the future. It has put in place a solid foundation following the purchase of additional land to extend the life of their Blackwater site. This ensures the company has a good source of material to process with the best possible equipment and access to the right knowledge to achieve their growth ambitions."
Project Facts and Figures
Wet processing plant energy requirements easily met by 250Kva generator set on site
Water consumption down by 200m3 to 20m3 of water per hour
Tonnage processed increased from 30-40tph to 80tph
Tonnage output increased from 15-20tph to 40tph