Less than five-year-old machinery and equipment was trading at a premium at the recent Leeds sale
Construction and agricultural machinery that's between two and five years old and in top condition was trading at a premium at the recent three-day used equipment auction organised by Euro Auctions, Europe's leading plant auctioneers, at its poplar Leeds auction in August.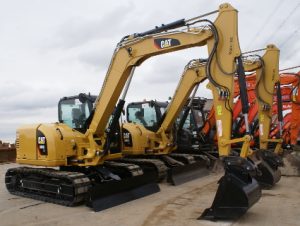 "Shrewd buyers are increasingly looking to acquire low hours machines that have all the functionality and 'bells-and-whistles' they need but at a significantly reduced cost of a new machine," stated Jonnie Keys, Euro Auctions' operations manager. "This means they gain all the operational benefits of an 'almost new' model but at a much-reduced cost. What's more if they run the machine for a few years, and then sell it on through an auction, they minimise their exposure to depreciation and potential servicing costs.  At the last sale we saw some popular models go for a premium of as much as 20%; reflecting the desirability of these machines and what operators are prepared to pay for hassle free operation."
Taking a CAT 308E as an example; the list price of a new machine, depending where in the world it's being bought and its exact specification, is around £100,000. However, a machine that's two to three years old and with about 1000 hours on the clock can often be secured for around £70,000.  If this is then well maintained and excessive hours are not added, it could realise after three to four years of productive service a sale price of around £50,000.  That means the excavator could cost just £5,000 a year to own and doesn't tie up a huge chunk of operating capital.
"In today's economic climate when margins are being squeezed, value for money is vital, so bidders are increasingly prepared to pay a premium to secure a quality machine that meets all their operational requirements but has lower lifetime operating costs and therefore represents better overall value for money," continued Jonnie Keys. "That's why we are seeing two to five‑year-old machines commanding a real premium."
Results from the August auction in Leeds
A total of almost 4,200 lots went under the hammer at the Euro Auctions three-day sale in Leeds at the end of August. Over 2,000 UK and international bidders registering interest for this sale; one in ten of whom were first time bidders, further demonstrating the growing appeal of auctions.  The final hammer total was also over £33 million, with around half of all tractions being completed online. Bidders were attracted from right across Europe, North Africa and the Middle East with additional interest being shown by bidders in North and South America, Asia and Australia.
Upcoming Euro Auctions sales:
The next three-day auction being organised by Euro Auctions at its popular and expanding Leeds site will take place between 17-19thOctober and is again expected to attract over 4,000 lots and draw interest from over 2,000 international and local bidders. Other sales on the busy calendar include one‑day sales in Dubai on the 17thSeptember and 10thDecember; in Zaragoza, Spain on the 19th September and then again on 27thNovember; with two-day sales in Dormagen, Germany on 24-25thOctober and 12-13thDecember.  There is also an on-line sale coordinated via the Brisbane, Australia site on 04thOctober with a physical sale scheduled for 15thNovember. Dromore in Ireland will also host sales on 14-15thSeptember 02-03rdNovember and the final 'end of year' auction on 14-15thDecember.
Auctions scheduled in the USA under theYODER & FREYbanner include sales in Ashland on 26th and
A specialist offsite mining and aggregates sale in Pennsylvania on 27th September. Then there is the
Kissimmee, Florida sale on 25th October and an end of year sale in Ashland on 06thDecember. Interest is also building for the upcoming Kissimmee Winter auction in February 2019 with over $5 million having already been consigned for inclusion in this popular, world renowned sale.