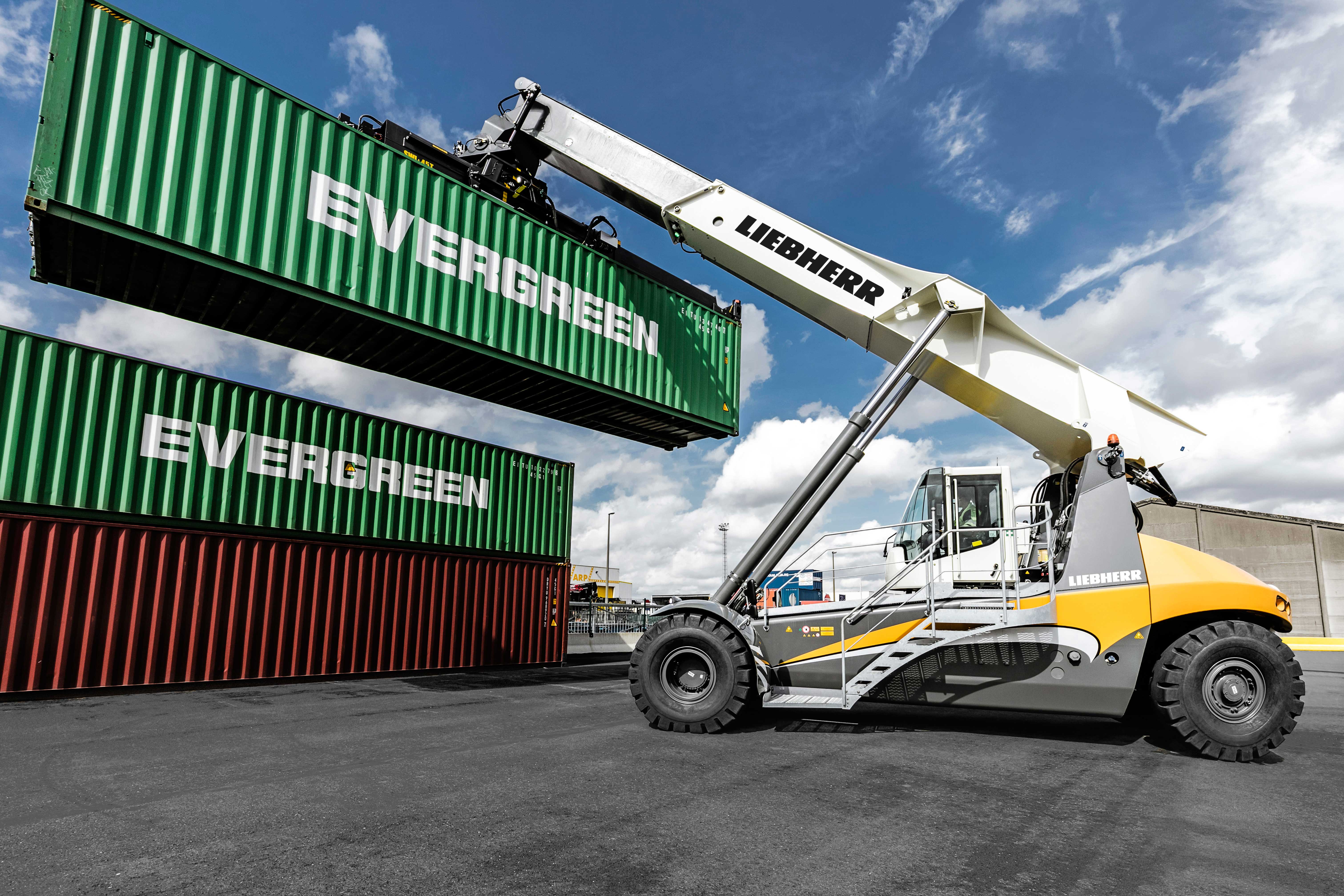 Frist delivery of a Liebherr Reachstacker to Perth in July
Powerful LRS 545-27 for handling of containerized lithium hydroxide
Energy-efficient equipment for forward-looking companies
Tianqi Lithium Kwinana has recently placed an order with Liebherr for the first LRS 545 Reachstacker in Australia. The new device is a part of a package including two Liebherr XPower wheel loaders. The new ma- chine is scheduled to go into operation in July this year.
Tianqi Lithium operates a new lithium hydroxide plant in the Kwinana Industrial Area, south of Perth in Western Australia. The company works every day to meet the rapidly growing demand for rechargeable batteries driven, for example, by the electric vehicle and energy storage industries. In July, for the first time, a reachstacker and two XPower wheel loaders from Liebherr will be used on the new plant in Kwinana. "It'sgreat to get one of our new machines into Australia," said Gordon Clark, General Manager of Liebherr Australia's Maritime Division. "We've been in talks with Tianqi for some time now, and it's great that they've put their trust in us."
Currently Tianqi Lithium is in the process of bringing their new Kwinana plant on line, which at full production will produce 48,000 tonnes a year of lithium hydroxide. The pro- duced lithium hydroxide is a lithium compound derived from spodumene, a lithium-con- taining mineral that is extracted in Greenbushes, 250 km southwest of Kwinana. One of the main tasks of the new Liebherr Reachstacker is to prepare the lithium hydroxide, which is stored in containers, for transport all over the world. In order to ensure a smooth loading process, a powerful and reliable device was required. Thanks to the Liebherr Reachstacker LRS 545-27, future container traffic on the Tianqi Lithium plant can be handled quickly and efficiently.
Powerful Liebherr Reachstacker LRS 545-27
The new machine has a front row capacity of 45 tonnes and can reach up to five containers high. Compared to its competitors, the LRS 545 is equipped with a fuel- saving 4-cylinder Liebherr diesel engine with 230 kW. The high efficiency of the hydrostatic drive ensures consistent performance with reduced fuel consumption: Furthermore, the downsized engine protects the environment by low fuel consumption and reduced emissions. To fulfil stage IV and tier 4 final legislative requirements, Liebherr relies entirely on an innovative SCR (selective catalytic reduction) system. The inhouse-developed system reduces exhaust emissions effectively without a sacrifice in performance. Especially for a global company with a focus on modern energy use, effective and low fuel consumption is indispensable. Phil Thick, Tianqi's General Manager said, "We're looking forward to getting the new facility fully on line and producing. The reachstacker and wheel loaders are a small but important part of theoverall process here, but it takes all parts to work together to get the result."