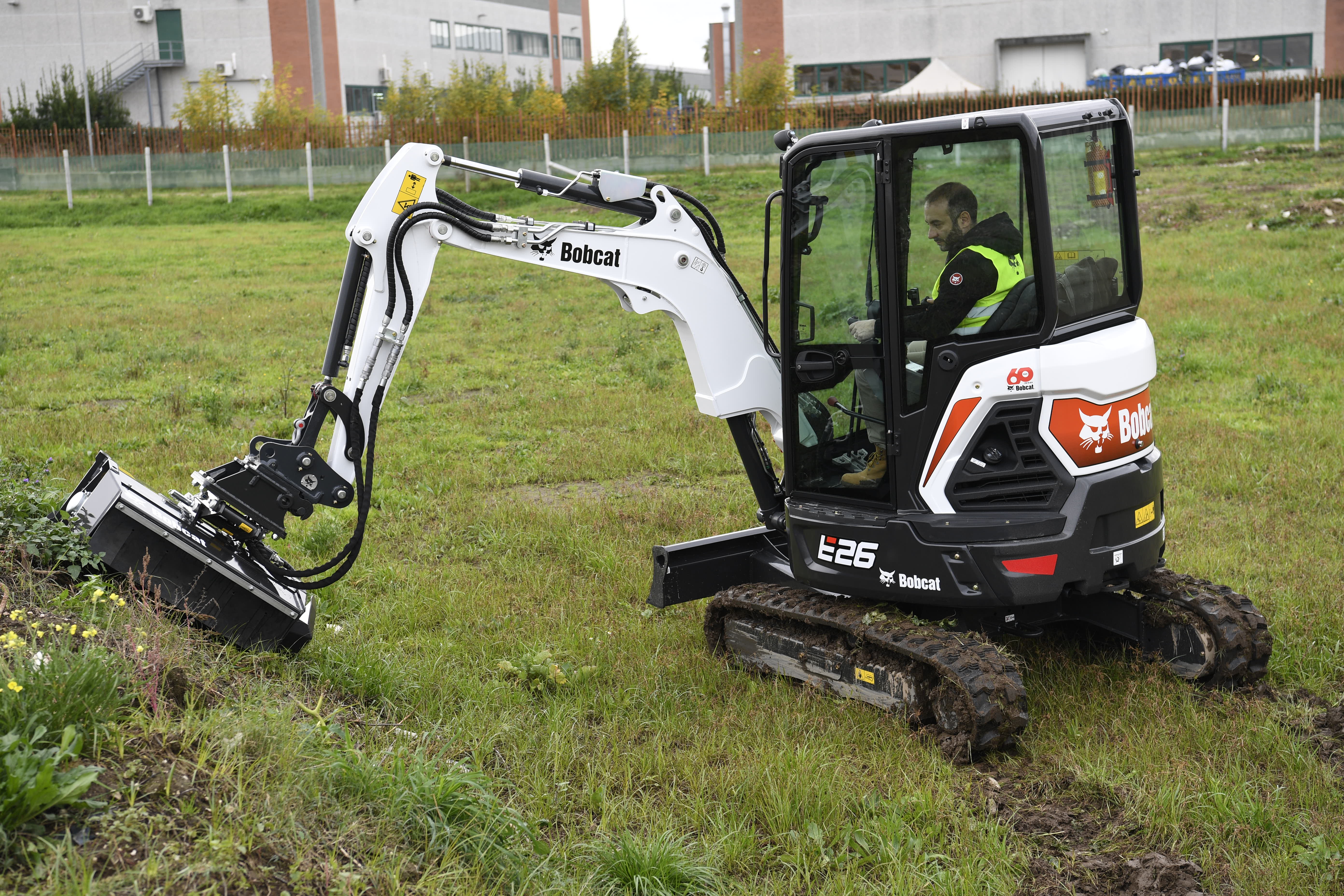 Bobcat has extended the company's landscaping portfolio with the launch of a new range of self-levelling flail mower attachments for the company's market-leading mini-excavators. The first two models – the SL FM 60 and SL FM 85 – in the new flail mower range are compatible with the Bobcat E17 to E20 1.7-2.0 tonne and E26 to E35z 2.6-3.5 tonne mini-excavators, respectively.
The new flail mowers are part of well over 100 attachment families for Bobcat's compact loaders, mini-excavators and telehandlers, the broadest portfolio on the market, with new attachment products being continuously developed to meet customer needs.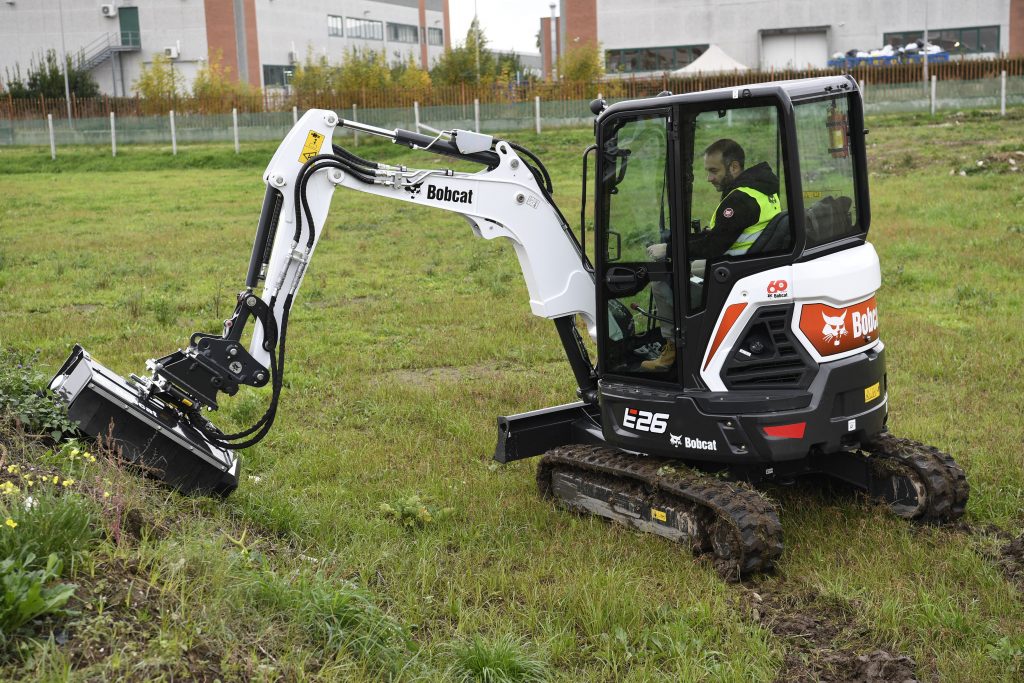 The SL FM 60 has a cutting width of 600 mm and a hydraulic flow of 16-38 l/min, whilst the SL FM 85 flail mower has a cutting width of 850 mm and a hydraulic flow of 36-70 l/min. Both are optimised for use on Bobcat mini-excavators, with no external drain lines needed, so they can be easily interchanged between different machines with the Direct To Tank function fitted.
A unique feature on the new flail mowers for the Europe, Middle East and Africa market is a drum braking circuit that stops the attachment within 12 seconds. For extra safety, the flail mowersare also equipped with resistant guards to divert debris.
The new attachments are particularly suited for use in the landscaping, land clearing, municipal, parks, utilities, recreational, construction and rental industries.
The new flail mowers can be used while driving, the self-levelling feature guaranteeing simplicity of operation and maximum productivity. They are easy to use, with no additional training needed for the operators, a key factor for rental companies. The flail mowers form part of a full selection of attachments from Bobcat aimed at the rental industry.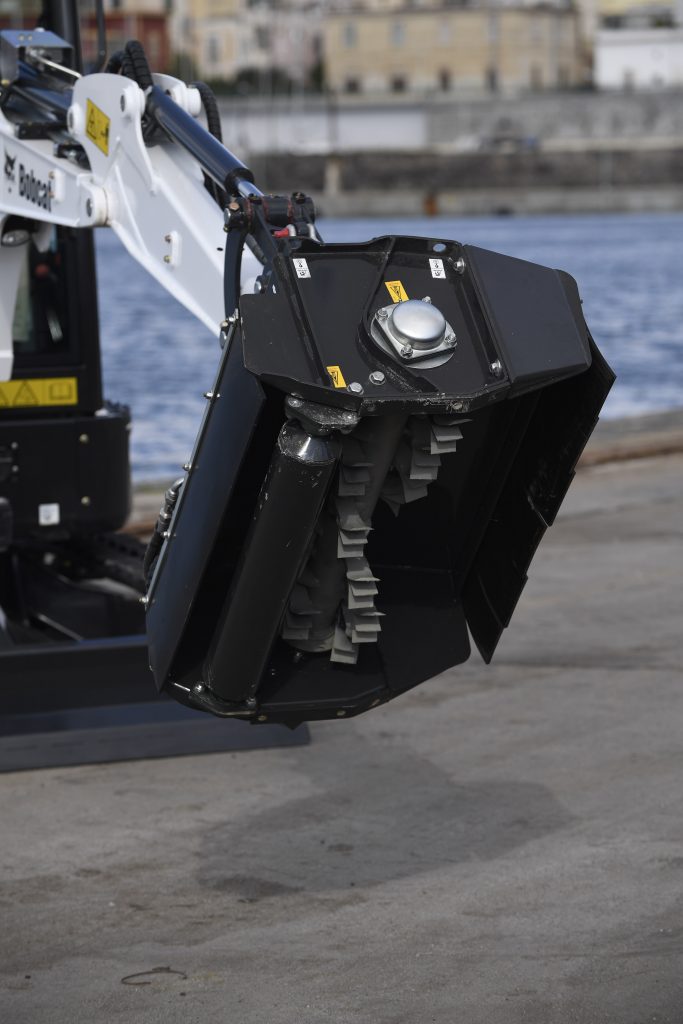 Bobcat Mini-Excavator Versatility
Like all Bobcat mini-excavator attachments, flail mowers demonstrate the versatility offered by these machines, utilising the long reach and manoeuvrability they offer as carriers. They are therefore designed for cutting grass on uneven ground where other mowers cannot work – they also have rollers so that they can closely follow the contours of different surfaces.
They are ideal tools for cutting and shredding vegetation, branches, thick grass, bushes and small trees alongside ditches, roads, hillsides, river banks, parks and fences. They can be used to prepare new land for development, clearing out brambles or tall grass from neglected areas.
As well as uneven terrain, the new flail mowers can also work on hard-to-reach areas such as those around pylons, solar panels and over fences. The flail mowers can also be used for mowing areas that contain debris.
The SL FM 60 is equipped with 32 knives as standard, ideal for cutting tall weeds and overgrowth. The SL FM 85 can be supplied in both hammer (12) and knife (24+12) versions. The hammer version is aimed at heavier applications such as cutting saplings and denser overgrowth.
Other features of the new flail mowers include a direct power drive and an anti-shock, anti-cavitation valve and flow reducer for cutting speed optimization. Long product life is assured by replaceable wear skids, front and rear abrasion resistant guards and the double skin flail head. The flail mowers also have replaceable cutting flails.
The new excavator flail mowers complement related attachments such as the flail mowers, Brush Cat mowers and forestry cutters available for Bobcat compact loaders.