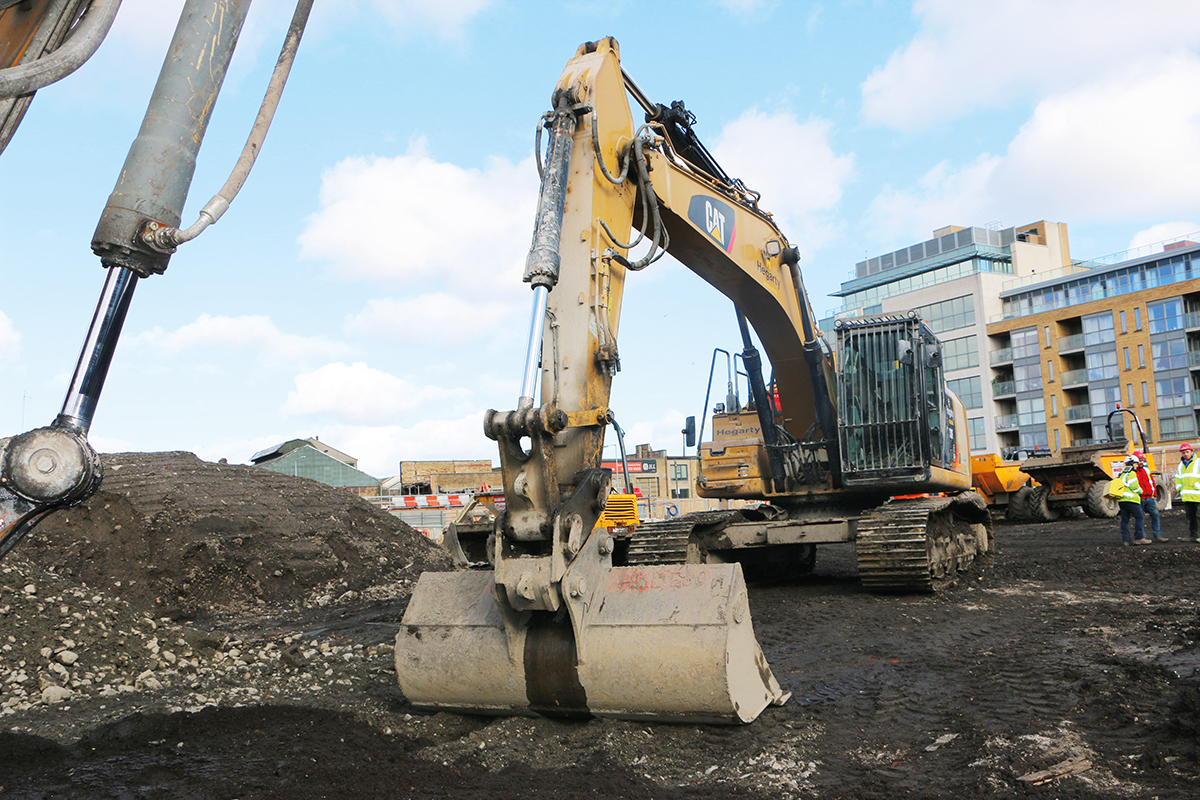 Demolition companies do more than just knock stuff down. Dara Boyle visits a job in North Wall, Dublin where Hegarty Demolition are carrying out a range of works to prepare the site for a new development.
Demolition is a business where a lot of variety can come up. Hegarty Demolition are currently working on a project at North Wall, Dublin, where they are preparing the site for main contractor SISK to begin construction on a new development. The job involves the demolition of piling, a building, and a retaining wall, as well as bulk excavation to lower part of the site to minus six level. New pilings are also being installed. The site will be home to a new development which will be a combination of residential and commercial buildings.
[divider style="solid" top="20″ bottom="20″]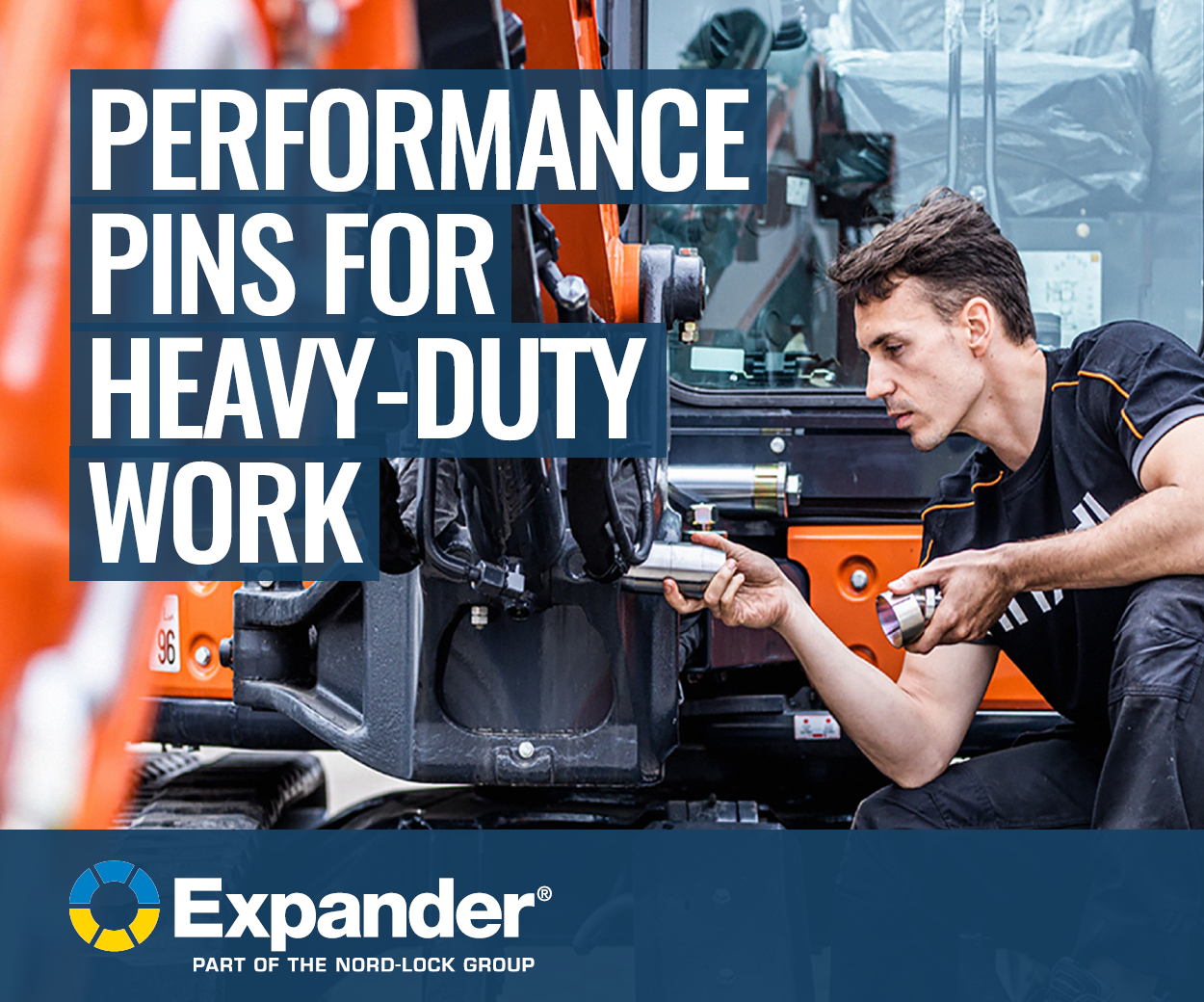 [divider style="solid" top="20″ bottom="20″]
Ground anchors had to be installed in the pile wall. This now requires a new licence from the DCC, called a GAIL (Ground Anchor Installation License). Hegarty Demolition are the first contractor to be granted this license.
Big Cats and low-swing Liebherrs
The machine tackling some of the heavy digging is a Cat 345C – a 2010 model. It is usually used as a high-reach machine, but has been fitted with a conventional boom and shorter stick for this mass excavation job. A full FOPS system came fitted to the cab from the factory. The digger has had some repairs done recently, including a new boom cylinder and a pressure sensor. 
The 345C is powered by the six-cylinder, 12.6-litre C13 ACERT engine, which makes 257 kW at 1,800 rpm. The digger has an operating weight of around 44,970 kg. As this is a long-reach demolition model, it features a tilting cab. The bucket can handle up to 3.5 cubic metres of material with each pass.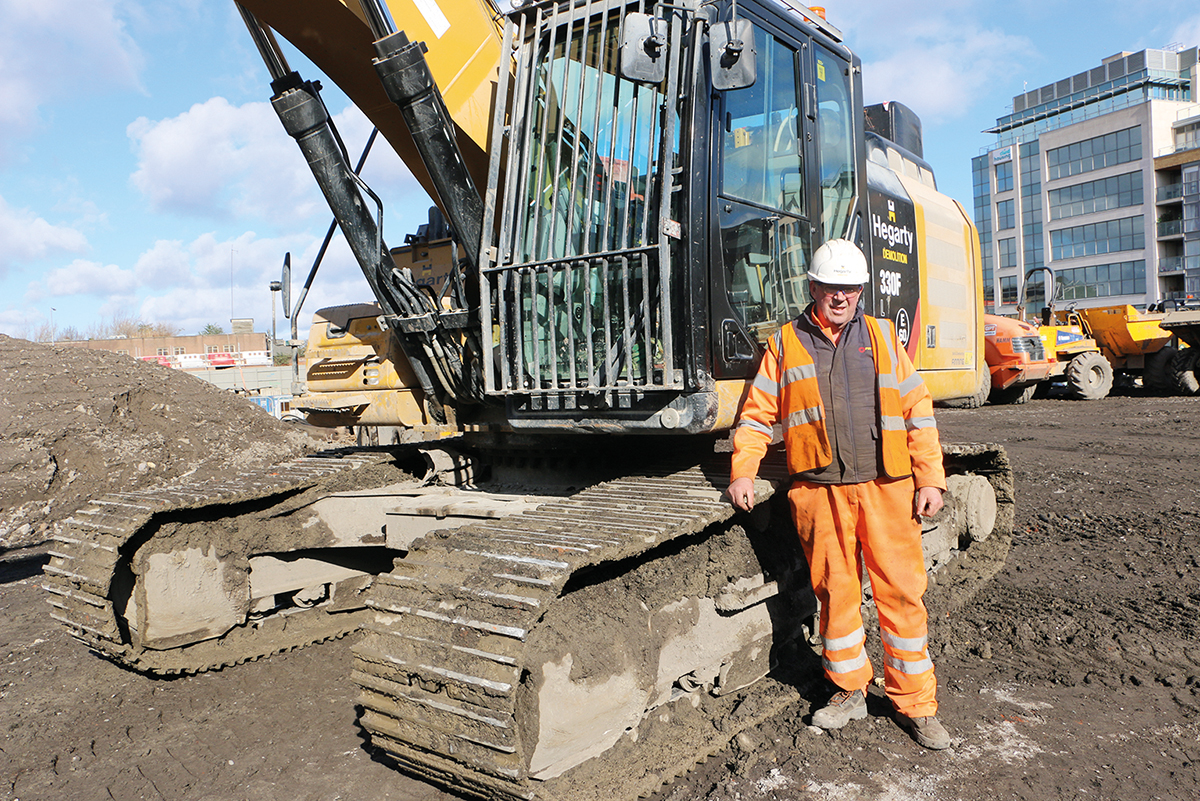 Another Cat excavator working away when I visited was a 330F L. Mick Tallon is the man piloting this machine. He is one of Hegarty's longest-serving operators, with over 40 years under his belt. Mick is a fan of the Cat brand, and the 330F L is the latest in a series of the machines he has operated. The machine is working in the new excavation and is carrying a grading bucket. Inside the 330 is a 7-litre C7.1 ACERT engine making 178 kW. The machine can muster 180 kN of breakout force. The cab is well equipped and includes an air conditioner and heater. The L in the name means it's a long undercarriage model.
A third Hegarty excavator on site is a tight-tailed Liebherr R 914 Compact. The German machine is powered by a four-cylinder, 3.6-litre Deutz powerplant that produces 90 kW and reaches Stage IV emissions standards. Operating weight of the R 914 is around 16,500 kg.
Up and running
This is a tough line of work for machinery, and so Hegarty always use demolition-spec machines. Many of them are fully equipped from the factory. If the company thinks it's necessary, they will add to the machines themselves; for example, stronger belly plates were fitted to a Cat 920 and Liebherr 922 to toughen them up for the rigours of demolition work. A strict service schedule is also maintained, and all the plant is serviced at 500-hour intervals. "It comes up on the dash when it needs to be serviced", says Michael Walsh. "As operators, we call the yard 100 hours beforehand to let them know. That way the kits are there, ready to go. This way, it's kept on top of and the machines don't go past the service intervals. When the fitters come out to work on the machines, they always check the hours too. I've never seen a company that's so religious about servicing", he says.
Hegarty employ three mobile fitters who can carry out a lot of work on site. Larger jobs are done at the yard in Newcastle, Dublin. Michael says any work needed is carried out promptly. 
"If there is something wrong, you call the yard and it's fixed. You don't have to carry on and let it get worse. This is how the machines last", he says. There hasn't been any undercarriage work carried out on the 345C yet, but one of the company's Liebherr 914s had some work done recently. The parts were sourced from Astrak.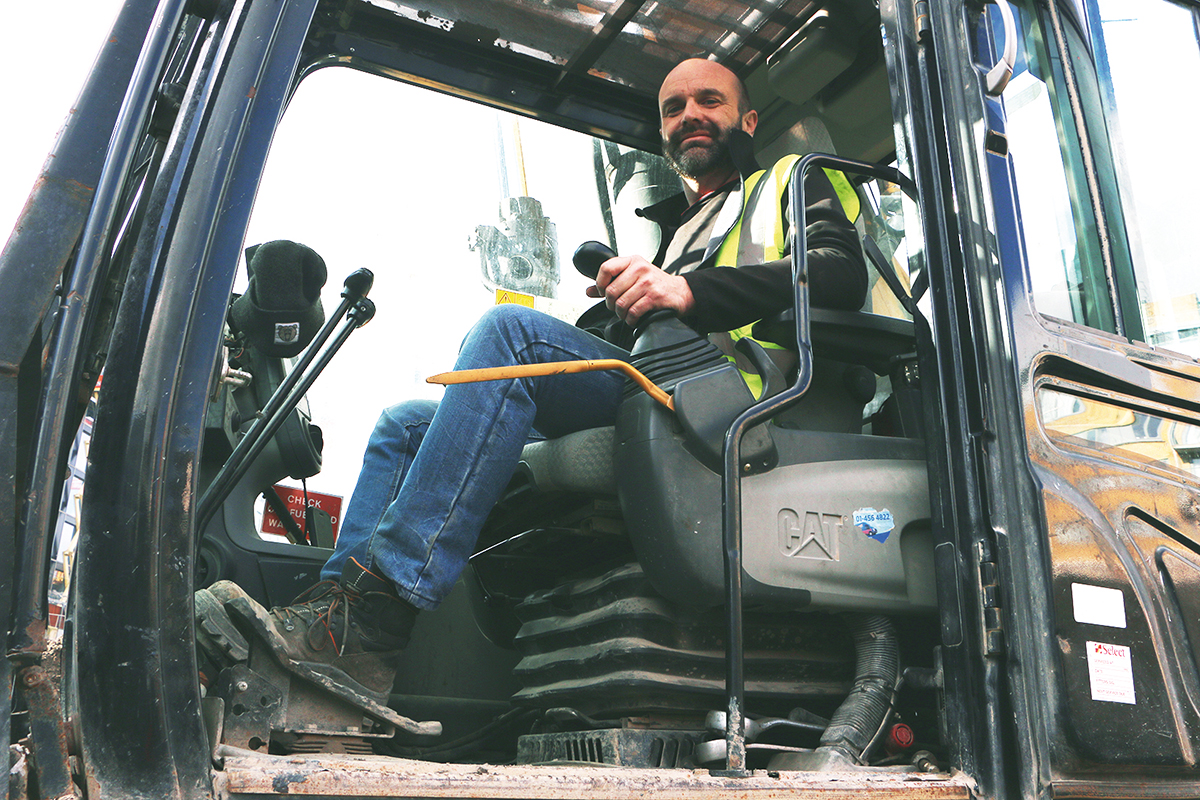 Keeping the dust down
Kicking up dust is an occupational hazard when working in demolition. Hegarty's larger machines like the Cat 345C and 330F on this job have been fitted with their own dust suppression systems to deal with this problem. These systems consist of a pump, tanks and a system of pipework. The 330F has a power washer built into the upper structure, powered by a 435CC Yanmar diesel engine. The water tank was originally a diesel tank from a Scania truck, and is mounted on the counterweight with two strong brackets. Operator Mick says this tank has a capacity of 600 litres. He likes the system but points out that the tank may be positioned a bit far back, leaving it vulnerable to impacts. A jet of water comes out of hoses on the dipper, on both sides of the bucket.
The big 345C uses a similar system, but with the water stored in a large, plastic oil tank held down by ratchet straps. These systems were all designed and fitted in-house by Hegartys, but they say the work was done with the cooperation and approval of dealers like Finning and Liebherr Ireland. Built-in dust suppression systems mean that there will be fewer workers on the ground in close proximity to the machine, making the work safer.
For machines not fitted with their own dust control systems, Hegartys use DustBoss water cannons from BossTek.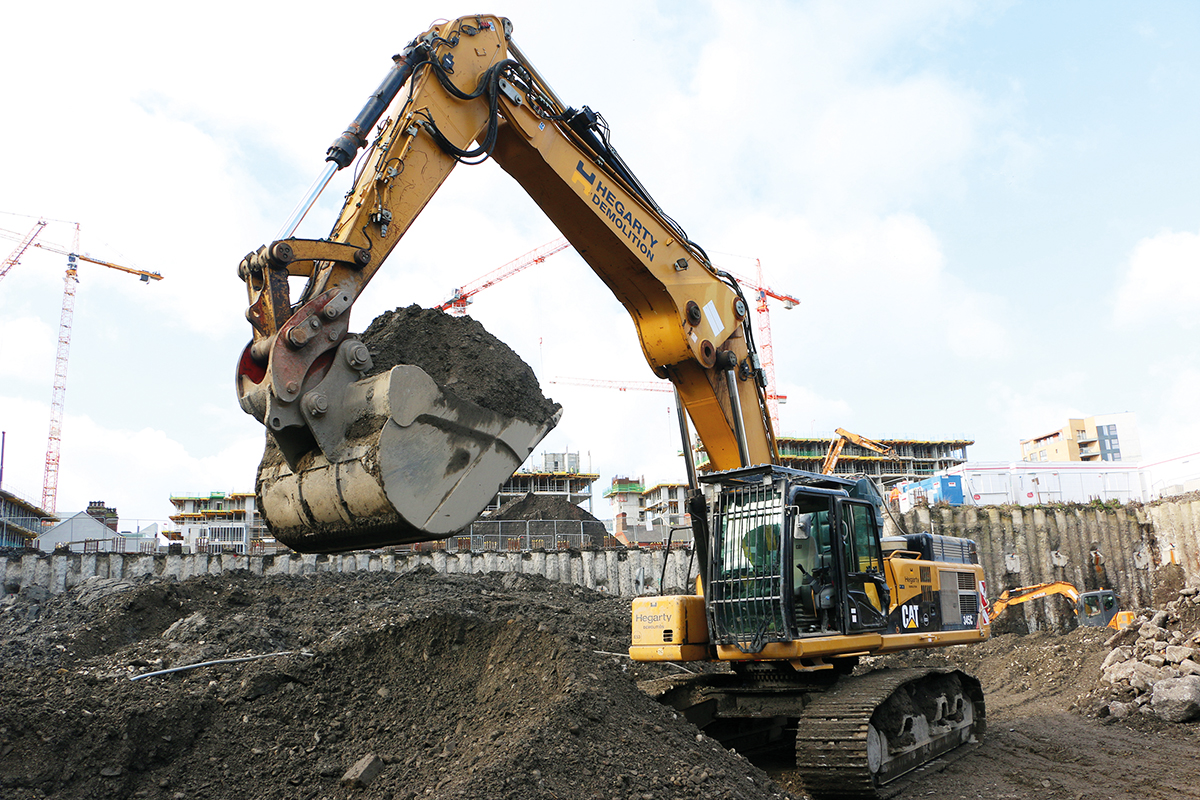 Working with waste
The material being handled on the site is composed of a number of different substances. Therefore, a detailed plan had to be made to handle and dispose of each type. I got to take a look at some site maps, which divide the area into different coloured cells. Each colour signifies a class of material, including hazardous, non-hazardous, class B2, and inert. An urban site like this can contain various types of industrial waste from the past, such as asbestos, heavy metals, petrochemicals, and lime.
Although a cell may have been classified as non-hazardous, hazardous material can occasionally be found in these areas during the excavation. "They may have dug a trial hole but missed this material and classified that cell differently. If we identify hazardous material – what we call a hotspot material – we will photograph it, quantify it, and move it over to a separate hotspot stockpile", explains Kenneth McKeon, Contracts Manager. "If Aecom then feel there is further testing needed, they can carry that out", he says.
Waste management company Enva was brought in to handle the removal of the hazardous material from the site to their sites in Portlaoise and Greenogue. Material classified as Category C – or non-hazardous – is being reused on site, with the exception of some excess which was hauled to the port and shipped to Norway, along with some hazardous material.
Part of the work involved breaking out concrete slabs, which had covered part of the site. Ward Bros Quarry & Plant Hire were brought in to crush this material on site. The crushed concrete was then reused by Hegarty in the new excavation to form a piling mat for SISK.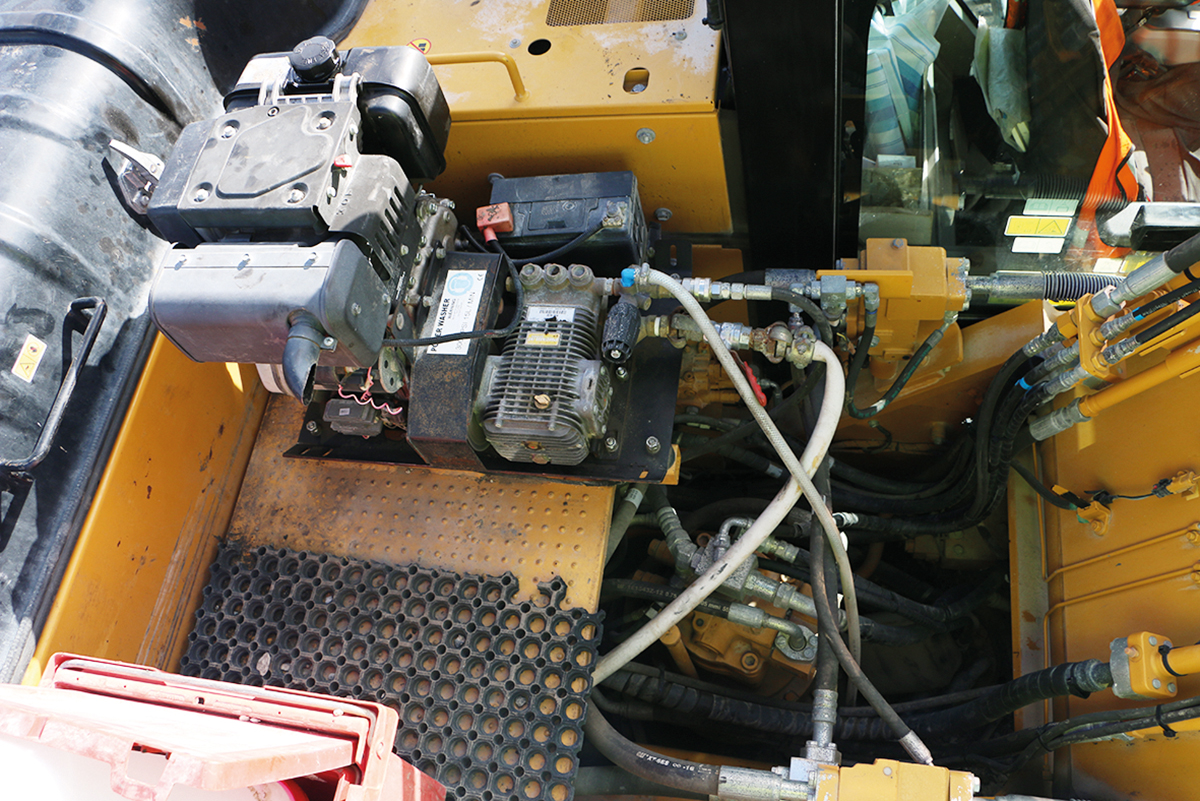 A well-equipped firm
The Hegarty fleet includes excavators ranging from 0.75 tonnes to 50 tonnes. Among these excavators are high-reach Cat machines, standard 20-tonne and 14-tonne excavators, 9-tonne excavators with NPK concrete crushers, and Takeuchi Hybrid machines with breakers, crushers and bale grabs. There are also Volvo and Liebherr wheeled excavators. Demolition crusher attachments include NPK, Veractor, Rammer, Robi, FRD, and Atlas Copco Rockbreakers, as well as magnets and grabs. Hegarty have several skidsteers, including a Bobcat S70 with grabs for inside work. Other plant includes Manitou rotating telehandlers, BROKK 3-phase remote-control machines with concrete crushers and breakers, and a wide range of plant trucks and artic trailers.